Zaina Murad
Marketing major
Berkeley Heights, New Jersey
"Being an effective leader requires recognizing that we do not have the ability to control others but have the ability to control our own actions, and once one recognizes this, they have the ability to control the situations that they are in more efficiently"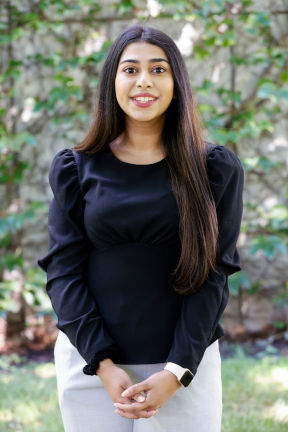 Struggling to choose between the numerous colleges Zaina had been accepted to, Seton Hall University slowly stuck out to her due to the unique opportunities it provided her. Seton Hall not only accepted Zaina into their BS/MD program but it also gave her the opportunity to major in Business, something that no other medical program would allow her to do, as well as accepting her into their prestigious Buccino Leadership Program. Suddenly, esteemed Universities that were located thousands of miles away no longer shone as bright as the one gem that lay quite literally 20 minutes away from Zaina's hometown of Berkeley Heights, New Jersey. Upon realizing this, Zaina excitedly began her journey at Seton Hall.

Her freshman year, Zaina had a very diverse set of classes that she had needed to take that spanned from Colloquium of the Ancient World to General Chemistry to Economics. This very diverse and seemingly unrelated course load provided her with a broader lens of the world. Therefore, whenever there is a problem that Zaina is faced with, she knows how to continuously approach them from different angles. Whether she needs to look at an issue with a more business minded, ethical, or STEM approach, Zaina has the ability to do so.

Zaina has always had a passion for caring for others as this is why her life goal is to become a surgeon. Zaina has also always been a very pragmatic thinker, therefore, coupling business and medicine together appeared to be a very good choice to her. This combination would allow her to open up her career paths so that if she wanted to open up her own clinic it could be plausible and if she chose to go into the business side of medicine, she could do that as well.

Due to COVID-19, Zaina did initially struggle tremendously in terms of balancing her home life and school life due to being fully remote in her freshman year. However, as soon as she was a fully in person student in the Fall of her Sophomore year, she began to look for different opportunities that would allow her to be a more active student on campus aside from just regularly attending classes. Zaina had already spent the majority of her weekends at home volunteering at the local hospital, Sunday school, and soup kitchen. Now it was her time to make her mark on Seton Hall.
Seton Hall Career Highlights:
Competitively selected to be in first Buccino Leadership Institute cohort
Volunteer at Overlook Medical Center