Wendy Gonzalez
Nursing major
Kearny, New Jersey
"My health has posed many obstacles in my life, but I do not see these milestones as setbacks. If it hadn't been for my complications and the nurse who helped me years ago, I would not have found my passion for health care. My goal is to make some of the scariest days of people's lives a bit better."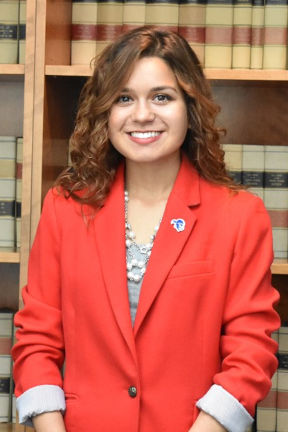 Growing up, Wendy was constantly in and out of doctors' offices. Chronic sinus infections, signs of a brain tumor, life-threatening allergic reactions to medications, and countless surgeries were just a few of her medical struggles. Needless to say, she has been poked and prodded a lot in her short lifetime. The search for her diagnoses spurred Wendy's hunger to seek the unknown. With the help of endless visits to the doctor, she found her passion for health care. Unfortunately, she knows what it feels like to hit a dead end when searching for answers, but just as her doctors do not give up on her, Wendy refuses to do so with her future patients.
At six years old, Wendy underwent a procedure to facilitate her breathing. She will never forget the green-eyed man that never left her side. At first, he was just a nice man, but eventually, her curiosity to know who this man was, grew. The nice man was not the doctor but the CRNA. His contribution to Wendy's surgery impacted her to such an extent that she wishes to take after him. Her goal in life is to become a Certified Registered Nurse Anesthetist. The Buccino Leadership Institute and the University's College of Nursing drew Wendy to Seton Hall. She sees the Institute as an opportunity to learn more about herself to be a better nurse to her future patients.
Wendy has taken advantage of as many resources as she can to dive into her future field. She is a member of the MEDLife Movement and will be traveling to Cusco, Peru next May on a week-long medical mission. Wendy also volunteers at Morristown Medical Center in the Carol Simon Cancer Center, aiding cancer patients getting surgery, chemotherapy, or going in for a checkup. She plans to complete a 5-week shadowing program overseas in Ourense, Spain. Wendy sees this as an opportunity to observe healthcare administration in different countries. The Buccino Leadership Institute has taught Wendy how to be an effective leader, not just to others, but in her own life. The Institute emphasizes the importance of leading yourself and stepping out of your comfort zone to achieve your goals. Through various personality assessments, Wendy has been allowed to analyze her strengths and weaknesses. She intends to adjust her behavior accordingly to be the best version of herself and provide optimal care for her future patients.
Seton Hall Career Highlights:
Competitively selected into the Buccino Leadership Institute
Member of the Student Nurse Association
Member of the MedLife Movement
Member of the Global Medical Brigades