Theresa Wang
Nursing major
South River, New Jersey
"Leadership is not about our accomplishments, yet it is the influence we had on others while leading them before ourselves."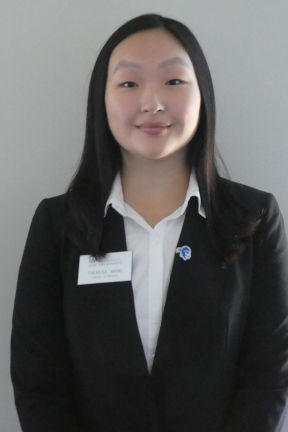 Since the beginning of her high school career, Theresa Wang knew she was destined for leadership. While actively leading in the Student Council and National Honors Society, she found herself involved in many other clubs beyond the classroom. As Vice President of the Adopt-A-Family Club, she spent countless hours fundraising to provide the bare necessities and toys for families during the upcoming holiday seasons. They supplied an abundance of items for dozens of families with the gifts and donations from the club and their generous donors. Theresa then dedicated much of her spare time to a FIRST Tech Challenge team, in which the surrounding communities came together to build a robot for regional competitions. Through her four years of experience with FIRST, she learned many engineering and leadership skills, culminating in the team's appearance at the world championship in Detroit, Michigan in 2019. From these experiences, she was influenced and found her passion to help those around her.
Theresa committed to Seton Hall University to pursue her dreams of becoming a nurse and further her leadership skills in the Buccino Leadership Institute. She had hoped that this would help her be more proactive during her next four years at Seton Hall and strengthen her weaknesses as a leader. The group was like a family, and she found her home for the next four years.
Since her time at Seton Hall, she has joined many clubs, continuing to do what she loves. During her freshmen year, she was an active member of the Global Medical Brigades Club, attending a brigade to Tecpan, Guatemala in January 2020. The group was responsible for performing consultations, house visits, triage, dental procedures, vision exams, sorting the pharmacy, and educating the community about public health. She specifically enjoyed working with the licensed physician assistants and the positive impact that was provided for the people of Tecpan, solidifying her decision to become a nurse. She is currently still a member of Global Brigades and is also the co-education chair for the Global Public Health Brigades Club.
During the summer of 2020, Theresa participated in an entrepreneurship accelerator to further her project of CareCall along with Dr. Katherine Connolly and other members of the Buccino Leadership Institute's Nursing Cohort. Throughout the nine weeks of this program, Theresa and the group finalized their development plans of CareCall and are currently developing the prototype to be tested at the Seton Hall Interprofessional Health Sciences Campus. This product will change the future of hospitals and the outdated call bell system with the use of designated actions to specific roles.
Theresa's four years at Seton Hall University will incorporate many accomplishments and development in her leadership skills along with success in her academics. After these four years, Theresa hopes to work in the field of cardiology as it resonates with her the most. She is very excited to see what the future holds as a registered nurse.
Seton Hall Career Highlights:
Competitively Selected into the Buccino Leadership Institute
Student Council for The Gerard P. Buccino '63 Center for Leadership Development
Care Call Entrepreneurship Team
Retention Chair of Global Medical Brigades
Co-Education Chair of Public Health Brigades
Student ANA member