Sereen Abu Hawa
Nursing major
Kearny, New Jersey
"Leadership is about growth. Growth for not only the sake of ourselves, but for the communities we will actively serve. With the help of the Buccino Leader Institute, I hope to do just that for both myself and those I will work tirelessly in helping."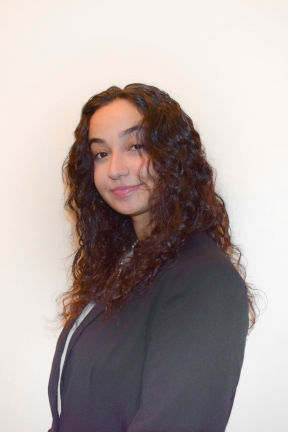 Sereen Abu Hawa is a student at the School of Nursing and a member of the Buccino Leadership Institute at Seton Hall University. Before beginning her journey at Seton Hall, Sereen's leadership flourished at Kearny High School, where she was President of her school's National Honor Society. However, Sereen did not want her leadership opportunities to end after high school. As a result, she found herself so inclined to begin the new chapter of her life with the Buccino Leadership Institute. She says, "I knew I wanted to be involved with the university, and the Buccino Leadership Institute was one of the best places to start in creating new habits and learning lessons that will last me a lifetime."
Growing up, working within health care was something that Sereen had always felt a desire to pursue. While striving towards becoming a nurse, Sereen has begun her health care journey by working as a Pharmacy Technician, where she is learning many skills that coincide with being a great nurse. Sereen wishes to be the change needed within health care and prides herself in taking all the lengths necessary in achieving such.
Sereen knows that, as a nurse, she will hold great responsibility in the future. However, she believes that Seton Hall's College of Nursing and the Institute will prepare her for all that the nursing field may entail. "I want to be a great nurse. I want to change people's lives for the better and know that the combined efforts of the College of Nursing and the Institute will allow me to fine-tune the skills I will later apply in the nursing field." Sereen strives to provide for not just herself, but for the communities that she will play an active role in serving.
After graduating, Sereen plans on furthering her nursing career in becoming a nurse practitioner. She is excited to begin her clinical rotations and open herself to the several different areas within health care included in nursing.
Seton Hall Career Highlights:
Competitively selected into the Buccino Leadership Institute
Member of the Delta Phi Epsilon sorority