Sally Lai
Nursing major
Saipan, Northern Mariana Islands
"A life not lived for others is not a life" – Mother Teresa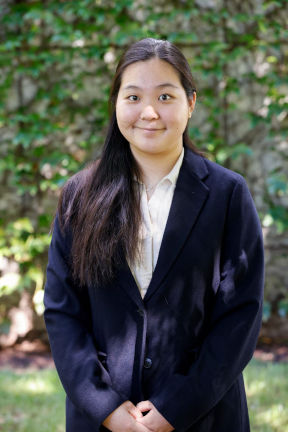 Passionate, willing, and capable are three words to describe Sally and her drive to be a good leader. Sally understands that leadership is a privilege and that it takes one to have the ability, passion, and confidence to take actions for what is right and to do so while being able to take responsibility in following through on decisions made and whatever follows.
Born and raised in the diverse and community-oriented island of Saipan, Northern Mariana Islands, Sally was constantly surrounded by a variety of leaders, mentors, and peers from various fields of studies who introduced and further instilled the true nature of leadership within her. This understanding and growth played an important role when Sally began actively leading various groups and organizations both in and outside of school and truly found her passion helping those around her as a servant leader.
During her high school career, Sally was an active leader for the National Honor Society, Student Council, Rotary Interact Club, and a founding member of the first ever Model United Nations group competing internationally from the Northern Mariana Islands. In addition to such initiatives, Sally was actively involved in organizations outside of school such as the American Red Cross. As President of the Rotary Interact Club, Sally was able to have the opportunity to take the lead in spreading awareness for World Polio Day. With the help of the Rotary Club, Sally carried out "Purple Pinky Day" at her school where all proceeds went to provide for polio vaccines and eradication. Although the student population was far fewer than other participating school chapters, Sally and her chapter managed to raise 2 times the combined profits from all other participating schools island- wide. To top it all off, the Bill & Melinda Gates Foundation tripled the funds raised and the money was distributed to organizations that worked towards helping those with polio. Such experiences and opportunities allowed Sally to want to explore the rewarding profession of nursing and helped her gain confidence in working with diverse perspectives and ideas whilst being a servant leader for those around her.
Sally's decision to commit to Seton Hall University was strongly influenced by her desire to pursue a career in nursing as well as her want to further her leadership skills through the Buccino Leadership Institute. Sally hopes to strengthen and proactively learn from her family-like peers and mentors from within the institute throughout the next four years.
Since joining Seton Hall, Sally has joined many clubs and organizations that have continued to broaden her horizons pertaining to community service, medicine, leadership and more. As of her sophomore year, Sally is an active member of the Buccino Leadership Institute's student council as a nursing cohort representative and has also recently become the Vice President of Project Sunshine; a volunteer-based service club that works with pediatric patients and their families within various medical settings. Through such initiatives, Sally hopes to strengthen her leadership skills and move forward towards her goal of being a servant leader in the nursing profession.
With strong aspirations to become a pediatric care nurse in the future, Sally hopes to utilize the accomplishments and growth in leadership skills that she accumulates throughout her four years at Seton Hall University and the Buccino Leadership Institute. She looks forward to accomplishing her goals and what the future holds for her as a servant leader.
Seton Hall Career Highlights:
Competitively selected into Buccino Leadership Institute
Peer Tutor for Seton Hall University R.I.S.E Program
Vice President of Project Sunshine
Student Council Representative for Buccino Leadership Institute
Member of Student Nurses Association
Member of Women in STEM
Member of Division of Volunteer Efforts
Member of Global Medical Brigades
Member of Seton Hall University Rotaract Club