Saleana Yang
Nursing major
Cupertino, California
"Challenges are what make life interesting and overcoming them is what makes life meaningful." -Joshua J Marine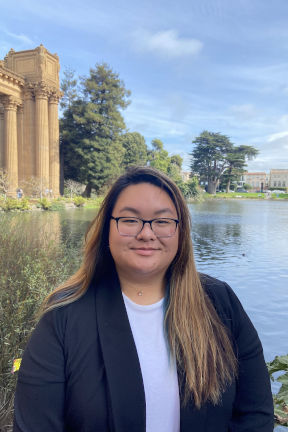 Saleana grew up in the heart of Silicon Valley, where she witnessed a large amount of economic disparity. Her passion for nursing stems from her struggles and the economic struggles of those around her. During her years in Cupertino, she volunteered with the AmeriCorps organization, Reading Partners, to help local elementary school students improve their English literacy. Since arriving at Seton Hall, Saleana has been an active member of the school's Global Medical Brigades, a chapter of the nonprofit organization Global Brigades. Through her involvement in Global Medical Brigades, Saleana participated in a brigade to Tecpan, Guatemala. There, she and nineteen other Seton Hall students assisted in patient intake, data informatics, optometric care, and dental procedures of 530 patients.
Saleana chose to attend Seton Hall University after attending an Open House event. The availability of resources for nursing students at the Interprofessional Health Sciences campus in Nutley showed Saleana how much time and care was dedicated to ensuring nursing students receive a well-rounded education. She was also interested in attending Seton Hall after learning about the plentiful employment and internship opportunities that SHU introduces to its students.
Though Saleana did not have prior experience with traditional leadership, she found that there is more to leadership than serving as team captain or club president. She led her peers through advice and mentorship. Saleana would encourage her classmates to take control of their education and recognize the privileges and opportunities presented to them. In the area that she grew up in, there were situations in which her peers would doubt their capabilities due to sheer competitiveness. She would motivate her friends and classmates to reach out to teachers, attend tutoring sessions, and prioritize their responsibilities. Her experience with leadership was to push others to reach their full capabilities and not be complacent.
Saleana decided to join the Buccino Leadership Institute to learn more about herself and become a more effective leader within her field. By utilizing the resources and lessons given by the Institute, Saleana hopes to gain insight on how to use her skills and traits to be a valuable nurse to patients and an irreplaceable teammate to her coworkers.
Saleana hopes to address healthcare inequality within communities. She is particularly interested in creating and providing accessible healthcare in underserved communities, forging meaningful connections with patients, and acquiring a deeper understanding of the medical system in the United States. Following her undergraduate years, Saleana plans to earn a postgraduate degree in Biomedical Ethics and provide exceptional patient care.
Seton Hall Career Highlights:
Competitively selected into the Buccino Leadership Institute
Secretary of Global Medical Brigades
Co-Education Chair of Global Public Health Brigades
Member of the Buccino Leadership Institute's Strategic Communications Initiative
Student Member of the American Nurses Association