"The Buccino Leadership Institute has given me the opportunities to thrive within Seton Hall's campus."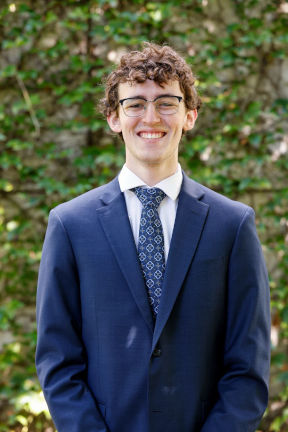 After taking a short jaunt up the East Coast from his hometown of Newark, Delaware, Ryan has found himself at home at Seton Hall. Ryan is a visual and sound media major and sports media minor. He is a member of the Communication & the Arts cohort of the Buccino Leadership Institute.
Though his freshman year was plagued by a pandemic, Ryan has opened up much more to campus life in his sophomore year. "For much of my first year, I was basically unable to leave my dorm. As a result, I have tried to keep myself as busy as possible for my sophomore year."
Ryan has become heavily involved with numerous organizations since arriving on campus. He was competitively selected into the Buccino Leadership Institute. He has also devoted much time to WSOU, PirateTV, and the Pirate Sports Network. He has since become a producer at Pirate TV, called game games, written articles, and created numerous graphics for WSOU's Sports Department, and helped professionally broadcast a game with the Big East Digital Network. He hopes to join the leadership body of one of these clubs in the coming year.
A big selling point for Ryan was the Buccino Leadership Institute. He did not see many other schools with a dedicated leadership program for schools outside of business. When he saw the opportunity that he had at Seton Hall with the Leadership Institute, he jumped at the opportunity. "I didn't see many schools that gave me the opportunity to not only develop as a person, but as a leader." Though not having many opportunities because of the pandemic, Ryan hopes to get more involved within the Institute in the future and believes that the connections that the Institute can provide him will be paramount in the future. Ryan is working towards becoming a play-by-play broadcaster in the future.
Seton Hall Career Highlights:
Competitively selected for the Buccino Leadership Institute
Member of WSOU
Producer of PirateTV
Member of the Pirate Sports Network