"I don't ever dip my feet in the swimming pool, I would rather dive right into the ocean. Sounds scary and uncomfortable, but that's the point in living right?"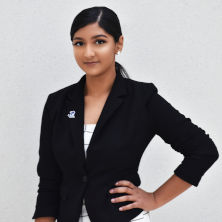 Born in Bangladesh, Rua Dinm has moved over sixteen times in her life. Her last place of residence was Bensalem, PA. Moving so many times over the years, Rua lives to focus on the positives in her environment. "I hated and loved every place," she says, "but every location taught me something about myself, people, and the world."
Rua is majoring in Business Administration with a focus on International Relations and Diplomacy. She chose Seton Hall "because people here care." She wanted a campus where students and faculty are passionate and constantly looking to improve the community, which Rua found that here with Seton Hall's focus on servant leadership.
She is a jack-of-all-trades kind of woman. Rua speaks five languages: English, Hindi, Bangla, French, and Urdu. In her free time, which is limited, she loves to keep herself busy by writing poems, running her own freelance makeup business, going to the gym, reading, and analyzing movies. She is a very deliberate planner and enjoys having her tasks written down in front of her. Rua loves working with people and being a resident assistant in her sophomore year has been a highlight of her college career.
Rua strongly believes in global service and her mission is to promote social responsibility in her career. "I believe in dedicating my life to global service, and hopefully one day I get to use my platform to implement public policy by being a voice for the vulnerable." Thus, she wants to start her own socially responsible and sustainable fashion and cosmetics Benefit Corporation. Rua also works at Sally's Beauty Supply as a Beauty Advisor and Sales Associate, which was a partial inspiration to her dream, along with seeing the faces of children working at dangerous factories in Bangladesh during one of her visits back home. Fifteen years from now, Rua wants to look back, having no regrets, and be a successful entrepreneur, role model to her sister and good human being.
Seton Hall Highlights:
Competitively selected to be in first Buccino Leadership Institute cohort
Director of the Development Initiative for the Buccino Leadership Institute
She is a News Anchor and interviewer for the Global Current
Member of Global Medical Brigade
Member of MAC
Member of Fashion Club
Member of SASA
News Writer for the Setonian
Opinion Piece writer for The Stillman Exchange