Rachel Badway
Biology major
Westborough, Massachusetts
"The people you learn the most from are those who you would expect to lean the least from."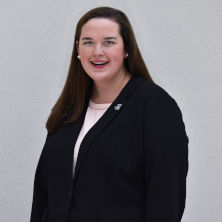 Rachel Badway is a Biology (Pre-Med) major from Westborough, MA, who has a passion for helping people. During high school, Rachel was heavily involved with Student Council, a task that required her to plan school dances and lead spirit efforts at all school sporting events. She also was involved with the Best Buddies, an organization that paired her with a student who had an intellectual or developmental disability. Rachel said that spending time with the kids in the Best Buddies program was and going out with them on Friday nights every month was something she "just loved to do." Through the program, she was able to develop not only her leadership skills but also a friendship with someone who she now considers to be one of her closest friends.
However, Rachel's influence was not restricted to the confines of her high school. She also represented her community on a regional advisory board that was created to assist lawmakers in Massachusetts understand and improve the educational system for all students. She also loves to ski, a hobby that she has been doing every weekend since she was eight years old. Rachel has used her hobby to better the lives of others by teaching students with special needs to ski. She also volunteered in a group that visited retirement homes and played games like Scrabble and Bingo with the elderly and babysat for teen-moms who are looking to earn their degree at night. Her heavy involvement in her high school and her community exemplifies her passion for helping people regardless of who they are or where they came from.
In the future, Rachel plans to continue to use her gifts to improve the lives of others by becoming a pediatric doctor that specializes in helping patients with special needs. She was competitively selected to be in first Buccino Leadership Institute cohort and hopes to improve her leadership skills further through her participation in the program. Rachel looks forward to interacting and learning from students in different disciples. As she puts it, "you need to have friends with different talents and skillsets because the people you learn the most from are those who you would expect to lean the least from."
Seton Hall Career Highlights:
Competitively selected to be in the first Buccino Leadership Cohort