"Leadership is all about empathy and learning from every aspect of life, while forgetting the judgements we make on others. It is impossible for us to grow and mature in our lives without understanding what it really means to be human."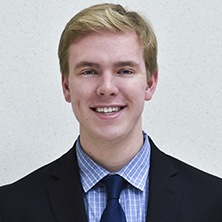 Peter is from Lagrange, Illinois and came to New Jersey looking to build connections and learn about making the world a better place. At Seton Hall, Peter studies Diplomacy and International Relations and is a part of the Buccino Leadership Institute, as a member of the Diplomacy cohort. He also works with the podcast and strategic communications initiatives within the Institute.
During high school, Peter discovered many interests that led him to his current career path. His interests include flying Cessna 172s with his Private Pilot's License and Eastern Europe following his gap year in Poland. For the past few years, Peter developed an interest in politics which pushed him to focus on working internationally. Traveling was also a huge motivation for Peter as he enjoys connecting with people of different cultures and believes that experiencing the vibrant cultures across the globe help to build a strong worldview and expand his horizons. At Seton Hall, he continues to challenge himself and puts his leadership skills to work. Peter chose Seton Hall because of the connections and classes offered for his declared major. For the same reason he decided to join the Buccino Leadership Institute. The program provides him with many opportunities to strength his soft skills and build upon his communication and teamwork skills.
On campus, Peter is involved with several campus activities. He is the Secretary of Best Buddies working to organize and educate events that help the Seton Hall community learn and communicate with people who have intellectual and developmental skills. He is also a member of the honors program and attends Slavic Club. As well, he is a member of the Seton Hall Model United Nations team. Leadership and these activities have built skills that Peter believes will push him to be a strong and team-oriented leader.
Seton Hall Career Highlights:
Buccino Leadership Institute Diplomacy Cohort
Seton Hall Best Buddies Chapter Secretary
Received a Best Delegate Award at Yale representing the Seton Hall United Nations Association (SHUNA)