"In my opinion, empathy is one of the most important qualities of being a leader. If we do not acknowledge and embrace our differences, we cannot effectively grow as individuals. We must put ourselves in each other's shoes to enhance our walk through life."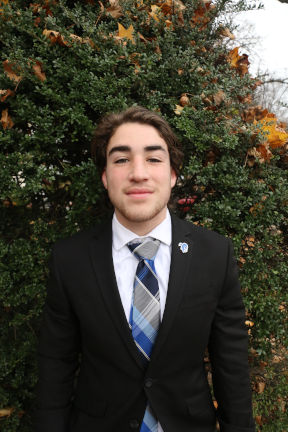 Regardless of the obstacles put in front of him, Peter Colon has never been one to back down from a challenge. His never say never attitude and adaptability allow him to perform at his best, even when the road ahead looks rough. Persistence is one of Peter's most prevalent qualities. He will never quit until he attains the best possible version of his project. His careful attention to detail displays his passion for producing only projects of the highest quality possible.
After narrowing down his college search to four schools during his senior year of high school, Peter eventually chose Seton Hall University. He cites the location outside of New York City and the prestigious Buccino Leadership Institute as his prime reasons for attending. The smaller campus size was also a factor, as he felt very at home when he first visited the campus.
As a freshman, Peter was the leader of his Interdisciplinary Team at the Institute. With his team, he produced and edited a promotional video for the Institute. He displayed his resilience when the COVID-19 pandemic hit, as the video was still in the early works at the time. In the end, the project was a success despite the complications that had arisen.
Peter has been awarded a spot on the Dean's List every semester thus far. He aims to achieve this for the rest of his career while working towards a career as an executive in the music industry.
Seton Hall Career Highlights:
Competitively selected into the Buccino Leadership Institute
Freshman IDT Leader
Member of the Diversity & Inclusion Initiative
QuestBridge National College Match Finalist