"Creativity is an innate trait, but creativity with innovation breathes life into even the most minuscule concepts."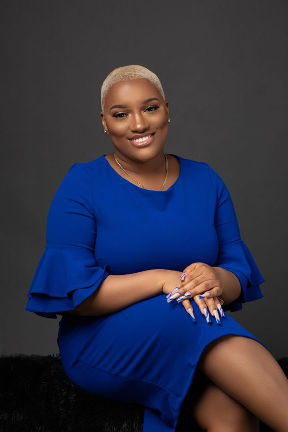 When you need an innovative and creative mind to bring an idea to life, Nyah Doe is your person. The child of West African immigrants, Nyah grew up in the suburbs of Washington, D.C., surrounded by institutions of art and culture such as the National Gallery of Art. From a very early age, Nyah exhibited an aptitude for the arts. She says, "I remember sitting in my living room as a child constantly drawing and painting, as my imaginative mind ran rampant with designs and creations." This affinity for art and design was showcased in Nyah's high school application to St. Vincent Pallotti High School in Laurel, Maryland, where she was offered a place in the school's newly developed Visual Arts Academy.
Nyah discovered Seton Hall by chance, and through research, became interested in the University. "Seton Hall is a school that cares about its students. Its size creates a family atmosphere that increases comfortability for students." Following her first visit, Seton Hall became her number one choice. After being selected into the highly competitive Buccino Leadership Institute, Nyah knew she would grow tremendously and receive excellent opportunities from her experiences in the Institute. Nyah began her Seton Hall journey as a nursing major but realized in her sophomore year that a career in nursing did not nourish her creative and artistic nature. Her lifelong love of art and design lead her to pursue a major in Art, Design, and Interactive Multimedia. After meeting the department's faculty and discussing Nyah's passion and past experiences, Nyah was welcomed into the department.
Since starting at Seton Hall, Nyah has become an active member of the Black Student Union, the Black Caucus, and the National Council of Negro Women. After joining Zeta Phi Beta Sorority, Incorporated, Nyah was selected as the Psi Pi Chapter's President and currently serves as the secretary for Seton Hall's National Pan Hellenic Council. Within the Buccino Leadership Institute, she has focused extensively on improving diversity and inclusion through her work as the Diversity and Inclusion Initiative co-header. As the Psi Pi chapter's President, Nyah has led her chapter to host a domestic violence discussion event for Domestic Violence Awareness Month and succeed in surpassing the chapter's goals for domestic violence and Making Strides Against Breast Cancer fundraisers.
While focusing on graphic design and advertising, Nyah hopes to learn how to accurately convey the visual identity of a corporation, displaying the relationship between an organization and its audience. Part of her focus as a Graphic Designer is to showcase work that is both socially and culturally responsible. Nyah's career aspirations are to obtain a position on the design team for major publications and work her way up to Vice President of Marketing.
Seton Hall Career Highlights:
Competitively selected into the Buccino Leadership Institute
Co-Head of the Institute's Diversity and Inclusion Initiative
Member of the Institute's Selection Committee
Chapter President and Public Relations Chair of the Zeta Phi Beta Sorority Inc., Psi Pi Chapter
Secretary of Seton Hall's National Pan Hellenic Council