"If your actions inspire others to dream more, do more, and become more, you are a leader."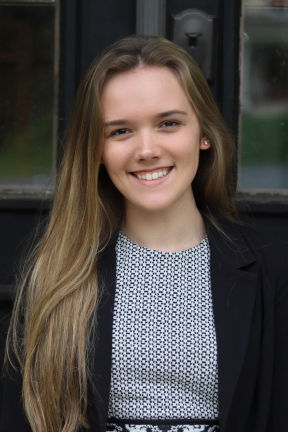 Nicole Stangl can best be described as someone who loves a challenge. In all aspects of her life, Nicole strives to not always take the easy route to meet an end goal. She believes that "the most knowledge can be gained by experiencing challenging moments and learning from the actions taken to push past them." The greatest challenge she has been facing is the need to grow out of her comfort zone. Nicole believes that attending Seton Hall was just the first step on her journey.
Originally from Pennsylvania, the distance from home was one aspect of attending college that did not worry Nicole. However, making the transition to live on her own and becoming responsible for all her decisions was an adjustment. She loved the challenge of the process because she knew it was helping her become a stronger person. Once acclimated to her new environment, she found it easy to call Seton Hall her second home. After one semester, she declared a double major of economics and marketing. Nicole feels this combination will give her the widest knowledge in the area of business; one she has been interested in since middle school. With these studies, she did not want to be limited in the scope of careers she could possibly pursue. She knows her journey will not be one straight path, but feels comfortable in the flexibility of her options.
A main aspect of this journey was Nicole's acceptance into the Buccino Leadership Institute. She remembers being a bit scared when submitting her application, but she had a feeling that there was a leader inside of her. When she was accepted, Nicole could not wait to be immersed in all the experiential learning opportunities that the Institute offered. Just two years into the Program, Nicole feels she has already grown immensely as a person and as a leader. She has been pushed so far away from her comfort zone that she cannot even remember what used to hold her back before coming to Seton Hall. "The Institute has provided me with so many opportunities that I am beyond grateful for," she says. Nicole used to fear the uncertainty of the future, but now she faces it with a positive mindset. She wants to make a difference in the world in whatever career she chooses and knows she can do that because of the Leadership Institute.
Seton Hall Career Highlights:
Competitively selected into the Buccino Leadership Institute
Co-head of The Gerald P. Buccino '63 Center for Leadership Development's Family Initiative
Co-head of the Center for Leadership Development's Social Media Initiative
Member of SHU Pre-Law Student Association
Member of Girls Who Code
Member of Alpha Gamma Delta Sorority