Nicole Caldera
Marketing major
Cedar Grove, New Jersey
"The difference between a good leader and a great leader is that a good leader is satisfied with how they lead, but a great leader is always looking for improvements and wants to grow not only as a leader, but as a person. As a member of the Buccino Leadership Institute, I hope to learn the necessary skillset and mindset to become a great leader to myself and others."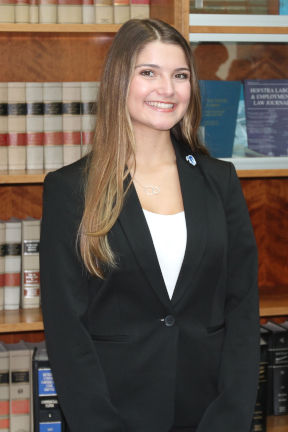 As a highly driven and motivated individual, Nicole Caldera was immediately drawn to Seton Hall's Buccino Leadership Institute while looking for colleges. Seton Hall was a top choice in her search, due to its proximity to both her hometown of Cedar Grove, and New York City's great internship opportunities. Most importantly, she admired the Institute and the opportunities it had to offer. Therefore, after getting accepted into The Gerald P. Buccino '63 Center for Leadership Development, she knew that Seton Hall would become her home for the next four years.
Throughout high school, Nicole proved herself as an involved student and leader in many ways. She was one of the only students in her class to obtain an internship during her high school years. She interned for a MadCreek LLC, where she worked on marketing and social media projects for her boss. She also wrote a press release that was published in the local newspaper.
Nicole took this same drive and determination with her into the Institute and Seton Hall. She hopes to learn how to become a future business leader in the workplace. In just one year of being in the program, Nicole has learned so much about herself and her leadership style. These findings have tremendously helped her grow as a leader and as a person. At the beginning of her first semester, she did not have the confidence to be the first one to speak in a course with a business executive or walk up to them without a friend accompanying her at a networking event, but by the time spring semester came, she saw herself gaining more confidence to talk to executives alone and speaking up more in class. She was so shocked that in such a short amount of time, and with a push into a more uncomfortable situation, just how much she was able to accomplish. She says, "If I could take away anything from my freshman year of the program, it would be that it taught me to push myself out of my comfort zone and I am proud of how much I accomplished. I am so grateful that I have such wonderful staff, faculty, and students around me who are always willing and able to help and want to see me grow." Nicole is excited to continue expanding her leadership skills and learn more about how to lead herself and others in the years to come.
Nicole has joined multiple clubs and initiatives inside and outside of the Institute. She has a passion for being an involved student and loves to explore different opportunities in different organizations. Within the Institute, she is Co-President of the Social Media Initiative.
As a marketing major, this initiative means a lot to Nicole because it gives her a taste of what the social media sector of marketing will look like in the real world. Nicole is also a member of the Interview Initiative and the Family Initiative. Outside of leadership, she is a member of Seton Hall's Marketing Club and Zeta Tau Alpha Sorority, where she hopes to obtain leadership positions in both organizations in the future. Nicole is grateful for Seton Hall's many opportunities for involvement where she can not only have fun and do what she loves but also work towards her future.
Seton Hall Career Highlights:
Competitively selected into the Buccino Leadership Institute
Co-president of The Gerald P. Buccino '63 Center for Leadership Development's
Social Media Initiative
Co-president of the Family Initiative
Programming Intern at Move For Hunger
Marketing Intern at Brennan Legal Counsel Group