"Most powerful is he who has himself in his own power."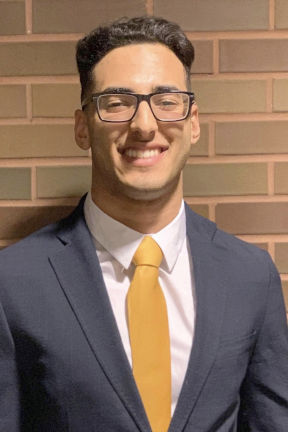 Having moved unexpectedly to the Boston area from Casablanca, Morocco in 2006, Nezar knows a thing or two about diversity and adaptability. He takes pride in his Moroccan-American identity, which helped him discover his love of languages and his goal of working in international relations.
He began working early on and discovered the significance of a reliable and consistent work ethic. His most impactful job was being a caddy at Winchester Country Club. He eventually earned the prestigious Francis Ouimet Scholarship. Nezar quickly developed a vigor for caddying and developed useful skills he transferred to other pursuits. He found that Seton Hall would be an excellent place to grow as a person and scholar.
Nezar has become a very well-rounded member of the Seton Hall community. His first role on campus was as a voting member of the Student Government Association's Diversity and Inclusion Grant Committee. Nezar is a proud member of the University Honors Program. He was elected to its Student Advisory board. He credits the program for inspiring his love of philosophy and helping him improve his critical thinking skills. He is active in Greek life as a Brother at Pi Kappa Phi and is a part of the Muslim Student Association.
Nezar's favorite hobbies are weightlifting and fitness, studying philosophy, and music production. "Whatever I do, I hit it hard, 100% commitment, and try to push myself. I can't walk away from something without giving it my best effort," says Nezar.
Nezar is a versatile person. His overall identity may be somewhat elusive as he can fit into and work well with many groups of people. He prides himself on having a diverse group of great friends. Ultimately, that is what makes him a special member of the Buccino Leadership Institute and the Seton Hall community as a whole. With strong analytical and communication skills, he hopes to be a key addition to any organization he joins in the future. 
Seton Hall Career Highlights:
Competitively selected into the Buccino Leadership Institute
Member of the Honors Program
Executive Board Member of the Honors Program's Student Advisory Board
Standards Board Chairman of Pi Kappa Phi Fraternity