"I strive to be the best teacher I possibly can. I am so passionate about equal rights for children with special needs. Oftentimes the special education department is overlooked and I'm here to change that. Through leadership I hope to gain all the necessary skills to effectively teach my students and to shape them into the beautiful individuals that I know they are."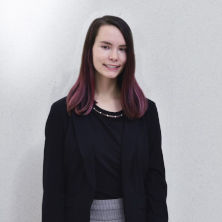 From a young age, Muireann Carmody always knew she wanted to be a teacher. She has always loved school and the idea of being a teacher – and is now putting that into reality. In the summer of 2019, she worked at Camp Jotoni, a special needs camp with no age or disability restrictions. It reaffirmed everything she already knew about her talent with working with children, specifically with special needs. The experience threw her right into getting valuable experiences and connecting with individuals. It taught her a lot about how to effectively problem solve and approach different situations – something crucial for a leader.
Muireann came to Seton Hall for a few different reasons, but most of them point back to her passion for education. She says that one of the drawing points was how intimate the classes are – "I didn't like the idea of being in a large lecture hall." She is a Secondary Special Education major with a concentration in English, so she wants to be taught in the way that she is going to teach. Another important aspect for her was the excellent Seton Hall education program. She knew she would be getting the best education possible that would make her the best teacher she could be.
One of the things she hopes to get out of the leadership program is to "learn skills that will ultimately break me out of my shell." Muireann considers herself an introvert, so she hopes that she will become a better speaker and be able to apply all the leadership skills she learns directly into the classroom.
Besides being a part of the leadership program, she is very involved with the Veggie Society on campus. Muireann also works as a tutor in the writing center at the library. She loves working there, "I find reflecting upon a student's writing, going into deep analysis, and giving feedback is not only enjoyable but rewarding. Even when a student is more closed off, I always manage to find a way to open them up. I can confidently say that I have made connections with every student that I have tutored and affected them in some way. Helping others is something that I am so passionate about and working at the writing center does not feel like a job – I look forward to it."
Muireann's dream is to be a special education teacher in a high school and that she is truly happy. She wants to change the education system and is eager to further her teacher leader career here at Seton Hall.
Seton Hall Career Highlights:
Competitively selected to be in first Buccino Leadership Institute cohort (College of Education and Human Services)
Vice President of the Seton Hall Veggie Society
Tutor at the Writing Center