"The hardest part about leadership is being able to lead both yourself and others through any task thrown at you."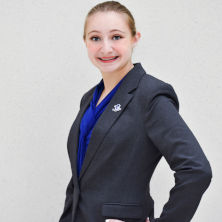 Molly lives with her mom, Kim, dad, Tom, and younger sister, Emily, in the town of Mount Joy, Pennsylvania. Though her life of swimming, listening to music, and having dance parties with her friends seems amazing, she does face some challenges as well. Being three hours away from home, Molly finds it difficult to be away from her family for weeks at a time. Describing her start at Seton Hall, Molly said, "For the first few weeks it was difficult to find the routine for the week."
Though it took some time for Molly to get the hang of things, she does not regret her decision to come to Seton Hall University. She was torn between Seton Hall, which is three hours away from home, and a different college, which was fifteen minutes away.
A big part of Molly's decision was the Buccino Leadership Program. On her second visit to Seton Hall, she learned about the program and told herself, "that's what I want to do." Molly was determined to be a part of leadership at Seton Hall. "I made a deal with myself, if I went to Seton Hall, I'd do the leadership program, and if I went closer to home I'd do the Honors Program." She has high expectations for the leadership program. She hopes to become a better leader, learn how to compromise, and lead large groups without becoming overwhelmed.
Molly is very ambitious. She is a Public Relations major and has a dream to be an intern for the Tonight Show with Jimmy Fallon. Molly has a very busy schedule. She was not only competitively selected to be in first Buccino Leadership Institute cohort, but she is a clarinet player for the Seton Hall Pep Band. On top of this, Molly continues to maintain excellent grades and excel in the classroom. Throughout high school, Molly was an active member of National Honors Society, Math Honors Society, and was president of the Marching Band.
Seton Hall Highlights:
Buccino Leadership Program
University Pep Band