"Being accepted into the Buccino Leadership Institute as a member of the School of Diplomacy has been one of my greatest honors and has encouraged me to the best leader I can for myself, as well as those around me."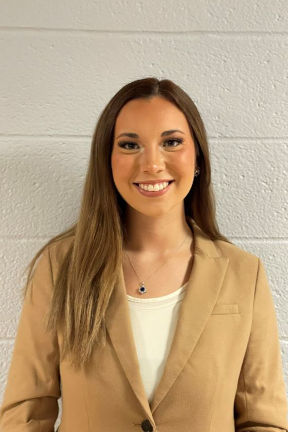 Molly Barkley left her home in Cinnaminson, New Jersey to pursue her passion for diplomacy and law at Seton Hall University. At Seton Hall University, she is a part of the Buccino Leadership Institute diplomacy cohort and is majoring in Diplomacy and International Relations.
Molly chose to attend Seton Hall University for the intimate and personalized learning experience that this Catholic institution had to offer. Her decision was also solidified by her acceptance in the Buccino Leadership Institute, offering her a professional developmental experience unique to Seton Hall. Molly knew that there were many schools that could offer a comprehensive international relations program, but there were very few that offered opportunities for leadership development. As a member of the Buccino Leadership Institute, Molly is looking forward to developing herself in a professional capacity by actively practicing leadership skills on a regular basis.
At Seton Hall, Molly is involved on campus as a member of the competitive Mock Trial team and as a member of the Girl Up initiative, encouraging and uplifting young women in leadership. "I do not often have free time due to the demanding nature of my schedule and activities that come with campus life, but I believe it is crucial to immerse myself and gain leadership experience anytime I can."
Molly is also a part of the 3+3 B.S./J.D. joint degree program with the School of Diplomacy and Seton Hall University School of Law. "Even though I knew I would be taking on many responsibilities by agreeing to be a part of an accelerated degree program as well as being a part of the Buccino Leadership Institute, I knew that Seton Hall would set me up for success in the future."
Another deciding factor in choosing Seton Hall for Molly was the small class size in comparison to other universities. She feared, however, that due to the small numbers that she may not be able to find or build a community with others that had similar values. Her fears were very quickly assuaged once she arrived at Seton Hall, the kind and caring staff that are a part of the Buccino Leadership Institute reassured her that she had a home at Seton Hall.
Molly chose to be a part of the leadership program because it actively gives her the opportunity to be exposed to new people, make new connections in the way of networking, and will give her real life experience in the professional world. Molly knew that "the Buccino Leadership Institute offered a once in a lifetime experience to gain meaningful feedback in an environment that fosters personal growth in leadership."
Seton Hall Career Highlights:
Competitively selected into the Buccino Leadership Institute Diplomacy Cohort for the School of Diplomacy
Member of SHU Mock Trial Team
Member of Girl Up