"Each and every person possesses a potential to lead, what matters is what we do with that potential."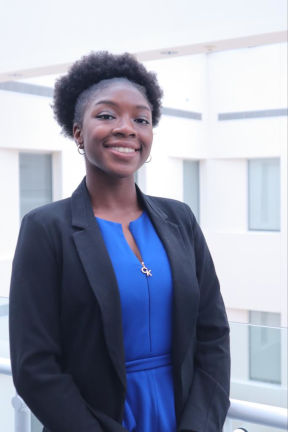 As the child of Nigerian immigrants, hard work and education have always been priorities in Moji Adesanya's life. From a young age, Moji possessed an insatiable drive to learn, which carries over to her academic career at Seton Hall University. As a Social and Behavioral Sciences major, Moji enjoys exploring an array of disciplines from humanities like sociology to physical sciences like biology. This expansive education is all in preparation for medical school, which is Moji's goal after graduation.
Following in her older brother's footsteps, Moji is a student in the College of Arts and Sciences at Seton Hall. Moji chose to come to Seton Hall because of the school's familiar atmosphere. She often says, "Seton Hall feels like home to me." After getting accepted to the University, Moji received an invitation to join the Buccino Leadership Institute and was ecstatic to apply to this prestigious program. After taking part in student leadership in high school, Moji looked forward to further developing her leadership skills and potential as a part of this program. Moji sees herself as a leader in her daily life, on campus, and in her future in the medical field.
One of Moji's greatest passions is working with others. Many would describe her as a social butterfly that loves making new connections with people. Since her senior year of high school, Moji has been blessed with an opportunity to blend her love of working with others and dance by working as a dance instructor at SoulXpressiion School of the Arts in Orange. Through this job, Moji's gained priceless professional experience working under an occupational therapist to help children with a range of needs to develop motor skills, confidence, and a love for dance. Since starting college, Moji has also helped create a new organization on campus. Moji is a founding member and the treasurer for the organization MASC, also known as the Minority Association of STEM Collegians. With this club, Moji, along with the rest of the executive board, aims to amass a community of minorities in STEM fields on campus and create an empowering environment to grow this generation's next STEM professionals.
Moji is very grateful to be a student at the Buccino Leadership Institute. She sees the immense value that this program has added to her life since joining and looks forward to continuing to flourish as a leader, in her collegiate years and beyond.
Seton Hall Career Highlights:
Competitively selected into the Buccino Leadership Institute
Member of Diversity and Inclusion Initiative in the Buccino Leadership Institute
Member of the Gospel Choir
Founding member and Treasurer of Minority Association of STEM Collegians
Blue Crew member in Seton Hall Office of Admissions
Resident Assistant working with Housing and Residence Life
Dance Instructor at SoulXpressiion School of the Arts