Mikhayla Rogowsky
Biology major
Bethlehem, Pennsylvania
"The price of success is hard work, dedication to the job at hand, and the determination that whether we win or lose, we have applied the best of ourselves to the task at hand." – Vince Lombardi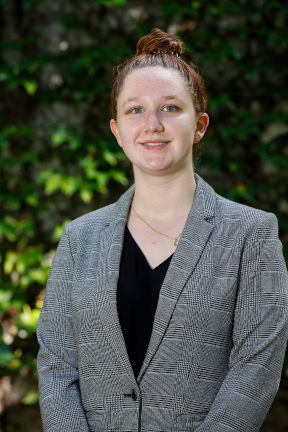 From Bethlehem, Pennsylvania to South Orange, NJ, Mikhayla left home to pursue her passion in the sciences. Mikhayla chose to attend Seton Hall University to obtain a rigorous education in the sciences so that she may apply to a Physician Assistant Master's program and excel in her future career. Mikhayla has always had an affinity for the sciences, especially anatomy and physiology, and she feels Seton Hall is educating her in a profound and impactful way to prepare her for higher education in the future. Currently, Mikhayla is a Biology Major in the College of Arts and Sciences and is a part of the prestigious Buccino Leadership Institute.
In the medical field, one must step up to the challenge and take difficulties head on in a fast-paced real-time setting. Not many people address this, but in order to succeed in the medical field, you need to be able to step up to the call of being a leader. Mikhayla felt that it was imperative for her to apply to the Buccino Leadership Institute in order to create and foster the leadership skills within her. Having seen firsthand through over forty hours of medical shadowing, leaders are found in numerous ways throughout the hospital settings.
In the PA (Physician Assistant) profession, you are called on by nurses, attending physicians, resident physicians, and many more to assess situations and lead clinical care for your patients. She feels that the abundant opportunities and experiences in the Buccino Leadership Institute will allow her to be able to effectively make split second decisions, work on teamwork abilities, communication, and networking skills. Mikhayla firmly believes the Institute will provide her with the means to be able to take on strong qualities of a leader and be able to succeed in the medical field.
Passion and dedication are values Mikhayla lives by. She believes you need to have a deep love of the work you want to enter into. She says, "you need to have the drive and resilience in the work you love." Mikhayla has spent countless hours researching and observing her future firsthand in a hospital and she hopes to be able to aspire to the hardworking and selfless healthcare professionals she has seen in her findings.
Seton Hall Career Highlights:
Competitively selected for the Buccino Leadership Institute
Global Medical Brigade