"All one has to do is play the right keys at the right time and the instrument plays Itself."- Johann Sebastian Bach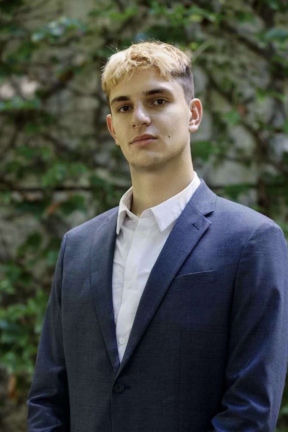 Michael began cultivating his leadership experience at Robbinsville Highschool in the debate room as part of the Model United Nations team. Here his love for diplomacy, and interests in global politics began to form, leading him to pursue a career in foreign affairs.
A student at Seton Hall University, Michael Manners is a part of the Diplomacy B.S./M.A. five-year program, while pursuing an additional major in Economics, and a minor in Spanish. In his free time, Michael enjoys practicing guitar, and performing music with his band on campus, with whom he sings and plays rhythm guitar. Michael's musical practices have deeply informed the way he lives, inspiring him to promote a more harmonious work environment whether he is the leader of group with a high stakes task, or a dedicated team-player in any setting.
Michael has worked as a member of the Civic Operations Group, contracted by the New Jersey Department of Health COVID-19 Community Corps. Working for the Civic Operations Group, Michael has spent time, on the ground, interviewing people in rather hard to reach communities surrounding Seton Hall, referring them to, and signing them up for resources such as food assistance, rental assistance, employment opportunities, mental health care, childcare, and much more. This experience has been invaluable to Michael, informing both his communicative skills as an English speaker, and as a learner of the Spanish language. To study the Spanish language was a decision that was made after Michael visited Spain during his junior year of high school, where he fell in love with Spanish culture, from the food to the architecture, to the dramatic colonial history of the Nation.
Michael's current focusses in international relations pertain to Latin America, where he considers his studies of economics to inform US foreign policy decisions in the continent. Long term, Michael wants to be in a position where he can curate an effective team that is briefed on foreign policy issues in regions of the globe in dire need of assistance, whether he be working for an extension of the US Government or an international organization under the umbrella of the United Nations. Michael's commitment to harmony and efficiency have him fully prepared to represent the Buccino Leadership Institute.
Seton Hall Career Highlights:
Competitively Selected into The Buccino Leadership Institute
Employed by the Civic Operations Group
Member of Pi Kappa Phi Fraternity