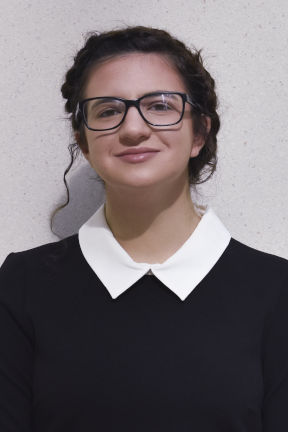 "Being a leader is more than being the person who talks the loudest or pushes everyone else around. I think the world needs more servant leaders, and hopefully the Buccino Leadership Institute can help mold the next generation."
Mia DiPaola is a student at the School of Diplomacy and International Relations and the Buccino Leadership Institution within Seton Hall University. She grew up in Wall, New Jersey where she attended Wall High School.
Mia came to Seton Hall with extraordinary leadership capabilities and a supportive background. She gained a lot of her experience in high school from being the captain of the field hockey team, treasurer of the National Honor Society, president of the math and interact club, and the salutatorian of her graduating class. Although Mia has immense experience in leadership already, she cannot wait to learn more. Mia believes "there is a lot more to leadership than one may originally assume, and the leadership institute will assist in helping all of us navigate through that in determining what makes up a true leader." Throughout Mia's educational career, she has had her family's support and sibling competition, which she believes has fostered her success.
In relation to the Buccino Leadership Institute, Mia is very excited to continue extending her academic and social career. She "cannot wait to develop stronger interpersonal skills, gain a deeper understanding of what it means to be a leader, and become more involved in the Seton Hall community." Although Mia has had previous experience with leadership, she is excited to further hone her skills. She is currently learning about the different pillars of leadership and is incorporating them into her daily life with her interactions with friends and family. By applying what she has already learned in leadership, like the essentials of collaboration, to her other classes, she has made meaningful progress in being a positive leader in her daily life.
Mia chose Seton Hall to continue her academic career because of the comprehensive diplomacy program. Mia is a diplomacy major with a concentration in European studies, and she hopes to double major in classics and minor in political science. Mia is drawn to the topic of international relations and is looking forward to developing skills that will lead her to a successful career in the diplomacy field, possibly in the private sector or government. In addition to the diplomacy program, Mia is also very involved on campus. She is a writer for The Diplomatic Envoy, the school's diplomacy newspaper, secretary of the Rotaract Club, and a member of the mythology club. These activities allow Mia to pursue her interests while making meaningful connections across the university and giving her additional opportunities to demonstrate her leadership capabilities.
Seton Hall Career Highlights
Competitively selected to be in first Buccino Leadership Institute cohort
Seton Hall Honors Program
Secretary of the Rotaract Club
Staff writer for The Diplomatic Envoy
Buccino Institute Strategic Communications Initiative, Editor