"To me leadership is not about being having control or being admired. It is about being able learn from everyone' strengths and combine them to create something great. I love that this program is interdisciplinary, as it teaches us to use everyone's assets to achieve something that is truly remarkable."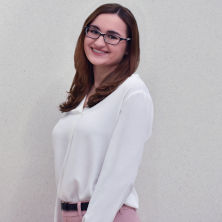 Since she was three, Melissa has been involved in dance, and she was her high school dance team captain for two years. Within her dance team, she taught younger dancers to build confidence while at the same time honing her own skills in communication and leadership. This will transfer over into her future career in the special education community, which involves intercommunication between different sectors of the job, such as physical therapists, teachers, and transportation services.
Melissa has always wanted a career that allows her to help others and was determined to find a job that allowed her to do so. During Melissa's junior year of high school, she was looking at colleges and deciding on what she wanted her major to be. That year, Melissa's aunt lost her battle with cancer and Melissa was devastated. Soon after, Melissa decided that she wanted to be a Speech Pathologist, a career very similar to her aunt's job in special education. Melissa is inspired by her aunt, hoping to continue her work and touch just as many people's lives as she did.
Seton Hall has great programs which provide many opportunities for students. For Melissa, there was no question of committing to Seton Hall, due to the immersive education program. This program allows Melissa to be part of a four-plus-two program, meaning that as soon as she completes her Bachelor's Degree, she will automatically be accepted into the graduate school for Speech- Language Pathology. She says Seton Hall has a "...very homey vibe. Everyone is so supportive. The professors always offer help when I need them and I know that they truly care about my success!"

The Leadership Program at Seton Hall presents many opportunities which Melissa intends to take advantage of to the fullest. She looks forward to improving her character by knowing herself so that she may become a role model to her future students. She wants to motivate students who may feel that they are at disadvantages to "move past their difficulties and do amazing things." According to her, the program will give her the tools she needs to move forward with this vision.
Internships are a large part of Melissa's future, and she is most excited about her time as a student teacher, so she can immerse herself in her field of study in a practical way. She also hopes to achieve an internship at a hospital, to diversify her knowledge of her major and keep her options open.
Overall, Melissa Soccodato is excited and optimistic about her future, despite having jumped over hurdles early on in her career. She is willing to work hard for what she believes is right, and with her ideas for the future, she will influence many others to do the same.
Seton Hall Career Highlights:
Competitively selected to be in the first Buccino Leadership Institute cohort
Member of the SHU dance team
Campus Ministry