Meghna Thomas
Psychology major
Cherry Hill, New Jersey
"Leadership is the dazzling flame that refuses to submit to darkness, that surrenders its light for the warmth of the world, and blazes fervently for the human heart across all space and all time. I am humbled by the promise of brightening the world as a member of the Buccino Leadership Institute."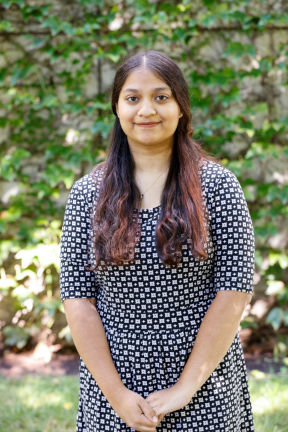 Meghna Thomas is a lifelong student whose eyes constantly hunger to gaze deeper into the world -- to witness the beauty and dimension of its hearts, and to use her own to give back to them. Upon turning the page of her life at Cherry Hill, New Jersey onto a new chapter at Seton Hall University, Meghna has devoted herself to deepening her understanding of, and treasuring, the remarkable complexity of the human mind, as an aspiring psychiatrist. As a competitively selected member of the Buccino Leadership Institute's College of Arts and Sciences cohort, she pursues a Psychology major in the university's 7-year joint BS/MD program. She continually learns about the intricate dimensions of psychology and medicine alike, and strives to knit these into her future: to compassionately advocate for and heal hearts and minds in need.
Before progressing onto her university career, Meghna encountered many transformative glimpses into the leadership world. As she connected with those around her and openly pursued her interests, her eyes opened to the stunning and vital power of leadership. She interacted with humans from vastly different walks of life, embarking on retreats, writing newspaper stories, and joining mission trips, coming to understand how invariably resilient and priceless the human condition was. Her responsibilities unveiled the irreplaceable importance of empathy and the magic of bridging others through communication, which she persistently cultivates as a member of the Buccino Leadership Institute.
At Seton Hall, Meghna intimately understands the importance of involving herself wholeheartedly on campus and commits herself to do so over the next four years, as an executive board member of the Seton Hall Psychology Club, facilitator of the Inclusion Alliance, and more. "Time is precious, and every minute at Seton Hall is a jewel that allows me to learn something precious about what it means to be human, to evolve, and to unlock my development as a leader; to enrich and inspire -- so I receive this gift of time with gratitude and determination to immerse myself in and better the heart of the Seton Hall community."
Meghna knows that Seton Hall holds the keys to igniting a better future. Its unparalleled doors offer boundless opportunities to open her mind and wield her voice for those unjustly shackled and unheard, particularly in the realm of mental healthcare. Its award-winning Buccino Leadership Program intrinsically resonates with her mission to use her heart and vision to pave empathy for those in need; to kindle a path aflame that affirms the value of every human heart and mind, through her walk with leadership. "The Buccino Leadership Institute offers brilliant pathways for students to tap into their voices and to revolutionize the world through their distinct leadership journey. My membership will mold me in ways that will enable me to mold a better world -- to grow in my psychiatric career and as a person, for all the days to come."
Meghna dedicates herself to the Buccino Leadership Institute in light of her lifelong quest to transcend beyond her bubble of existence and to expose herself to new ones: to thread priceless connections and chart the seas of a leadership journey towards radical compassion. The footsteps that she has and will continue to take guides her course, as she refines her leadership potential and connects with leaders that likewise seek to transform the world. At Seton Hall, Meghna's journey brims at the core of the program and beyond, as she immerses in numerous activities, all of which lace into her leadership growth and reverence for the beauty of humankind. She unflinchingly reaches towards stars, constellating a future resplendent with resilience, growth, and devotion for the good of all.
Seton Hall Career Highlights:
Competitively selected into the Buccino Leadership Institute
Member and Facilitator of Inclusion Alliance
Psychology Club E-Board Member
DOVE Volunteer