"I've been passionate about public health for as long I can remember, but it wasn't until now, being in the institute, that I was confident that I could help inspire lasting, positive change in the field."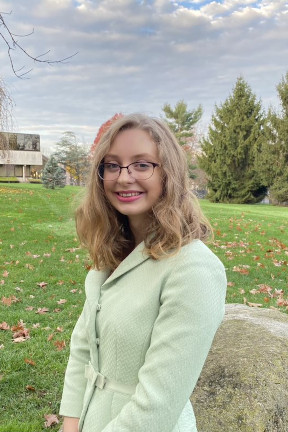 For Meg Gawron, Seton Hall was the perfect step to continuing her journey to become a better leader and advocate. As a member of both the Buccino Leadership Institute and the Brownson Speech and Debate Team, Meg reembarks on that journey every time she sets foot on campus.
Both inside and outside of the Institute, Meg has taken advantage of a plethora of leadership opportunities. While she was a freshman in the Institute, Meg was elected as the leader of an interdisciplinary team (IDT). As an IDT leader, she directed a group of nine other students from across several cohorts in designing and presenting a way for the Institute to revamp its admissions process.
Meg has also brought her vision for change and development to Seton Hall's Medical Humanities Club (HuMed), which she helped found in the spring semester of her freshman year. Serving as the organization's secretary, Meg helps schedule monthly guest speakers to discuss bioethical issues with HuMed's membership. In Fall 2020, HuMed covered topics ranging from racism in healthcare to the ethics of pharmaceutical pricing. As a part of the executive board, Meg facilitated group discussions on these topics, hoping to inspire a passion in the club membership. Meg plans to turn passion into legislative change by teaching the club how to write petitions and letters to their representatives in Spring 2021.
Meg's quest for legislative action is not exclusive to her work with HuMed. Competing on Seton Hall's nationally ranked speech and debate team, Meg has shared petitions and scripts for calling representatives at tournaments across the country, aiming to defend the rights of immigrants. Qualified for the 2021 American Forensic Association National Speech Tournament in communication analysis, extemporaneous speaking, and persuasive speaking, Meg sees her work on the team as something bigger than just refining her speaking skills or winning awards. For Meg, competitive speaking is about advocacy and amplifying the voices of those who are going unheard.
Aiming to continue her education at law school, Meg knows that her journey is only beginning. She hopes that Seton Hall will continue to provide her with opportunities to challenge herself as a student, a leader, and an advocate. Through the Institute's diplomacy cohort, Meg has participated in cross-cultural dialogues that showed her how she can improve in each of those areas. Following one of the Institute's pillars, Meg plans to remain ceaseless in developing herself, attempting to become the best asset she can to her organizations.
Seton Hall Career Highlights:
Competitively selected into the Buccino Leadership Institute
Seton Hall Honors Program
International News Editor for the Diplomatic Envoy
Co-founder and Secretary of Seton Hall's Medical Humanities Club
Competitor on the Brownson Speech and Debate Team
Selected to participate in the Jewish National Fund's Caravan for Democracy Student Leadership Mission