Matthew McCarthy
Accounting major
Middletown, New Jersey
"No matter how many times I get knocked down, it's not over until I say it's over."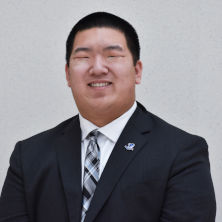 Matthew is one of the many people in his family to attend Seton Hall University. His grandfather attended Seton Hall after World War II, then sent 10 of his 12 kids to the university for their education. "It's such an honor to keep the family tradition alive."
The main reason he came to Seton Hall is because he was invited to apply for the leadership program in the Business Cohort. "Business leadership got really close over the summer during Pirate Adventure. We all got into our own groups and became really good friends."
In the leadership program, Matthew hopes to have better opportunities for good internships, good jobs, and the overall ability to grow in leadership qualities. "I hope that over the years I can keep the same friends because it makes going to college enjoyable."
Matthew is currently taking advantage of what Seton Hall really has to offer. He writes trending news articles for The Stillman Exchange. He also wants to start an Eastern Asian Club due to his South Korean roots. Not only that, but he wants to start the Team Walker Initiative to mentor and fundraise for underprivileged males. Most importantly, he says he wants to go back home to his high school sweetheart. "I have been dating a girl back home for four years now and in the future, I want to land a good job so that we can get married and have kids."
Seton Hall Career Highlights:
Competitively selected to be in first Buccino Leadership Institute cohort for Stillman
The Stillman Exchange
Team Walker Initiative