"Being a leader in the Buccino Leadership Institute at Seton Hall allows me to grow and learn more about myself and how I interact with others. I look forward to continuing to make a positive impact on my surrounding environment and those around me."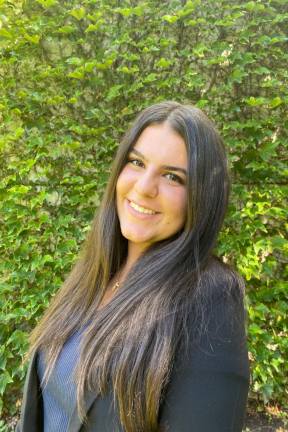 Mary knew that Seton Hall would be the best choice for her both academically and socially after being accepted to the Buccino Leadership Institute and the 7-year Joint BS/MD program. Mary has always had a passion for medicine and helping others, which is why becoming a doctor was the perfect career for her. Specifically, she hopes to become a pediatrician, since helping kids grow and learn was a large aspect of her high school career and she continues to work with them. However, she could have never imagined how crucial being a part of the Buccino Leadership Institute was for her growth as a student and as a team member. Mary understands how important it is to be well-rounded and have good leadership skills in any professional setting, and she hopes to gain many new skills and improve on existing ones in her 7 years at Seton Hall.
Although Mary had many doubts about her strength and ability to succeed in such a large academic setting, she felt that "being accepted to 2 outstanding programs proves that doubt should not interfere with dreams," and her confidence grew immensely. Being accepted to these programs showed Mary that she had more academic strength than she had ever imagined, and she knew she could not pass up this opportunity. She instantly became eager to continue to display her great work ethic and performance as a responsible and determined student and team member. The Buccino Leadership Institute served as a welcoming environment for Mary's first year, and continues to provide comfort and opportunities for greater success.
In addition to the Buccino Leadership Institute and the 7-year Joint BS/MD program, Mary is also involved on campus in several clubs, including Student Alumni Association and the Active Minds Club. She has even worked to obtain leadership positions in these organizations, and currently serves as Director of Communications in the Student Alumni Association and as Vice President of the Active Minds Club. Throughout different organizations and groups on campus, she is also able to learn about herself and her own interests. However, Mary hopes to continue to engage herself in the Seton Hall community and join more clubs and organizations in order to continue to serve as a leader in her community and learn about how to better work in a team setting.
Seton Hall Career Highlights:
Competitively selected into the Buccino Leadership Institute
Director of Communications of Student Alumni Association
Vice President of Active Minds Club
Service-Learning Initiative Member
Lab Prep Worker