Maham Bashir
Biology major
Livingston, New Jersey
"The capacity to lead is present in all of us. What sets true leaders apart is a ceaseless attitude to change the world for the better with every action that they take."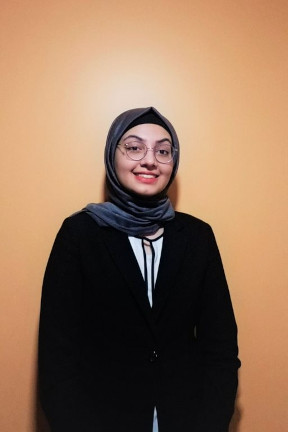 Growing up as the eldest of five sisters catalyzed Maham Bashir into leadership. In high school, her mother started attending college again, placing the responsibility for her siblings onto Maham. This period introduced her to conflict management. It also taught her the most important leadership lesson: a leader does not command through their words alone, but through their influence. "And the perfect place to develop that influence and strengthen one's character is the Buccino Leadership Institute," Maham states after experiencing her first year in the Institute.
In high school, Maham cultivated her love for science beyond the classroom, granting her important leadership experiences. She designed and conducted a team research project the summer of her junior year before presenting it at the 2019 North Jersey Regional Science Fair. Her team won 2nd place in their category from among hundreds of other contestants. This experience was invaluable to shaping her leadership skills. It demonstrated to Maham that "leadership is developed through experience." She selected the Buccino Leadership Institute because it offered countless opportunities for students to engage outside of the classroom in real-world issues. Maham has also been shaped by other leadership roles. She is an Interfaith volunteer at her local mosque, where she navigates difficult conversations. She also serves as the Head Instructor at the Tutoring Center. Maham is also an active member of the Diversity and Inclusion Initiative in the Leadership Institute. She works with her team members to recognize leaders from diverse and underrepresented backgrounds.
At Seton Hall, Maham continues to pursue her love of science and prepare for medical school. "A surgeon must lead the team in an operating room," Maham states, explaining why building her leadership skills is so important to her. "A surgeon must be able to work with a team that has different strengths, so knowing how to navigate interdisciplinary environments is a skill the Buccino Leadership Institute heavily emphasizes and puts into practice." Maham is also pursuing a minor in writing because she believes effective communication is based on a foundation of good comprehension skills and the ability to articulate one's thoughts clearly and concisely. Maham hopes to continue building her leadership skills through meaningful interactions with her peers and faculty on campus.
Seton Hall Career Highlights:
Competitively Selected to be in the Buccino Leadership Institute
Buccino Institute Diversity and Inclusion Initiative Team Member
Head Instructor at The Tutoring Center in West Caldwell, NJ
Active Member of Muslim Student Association
St. Barnabas Hospital Volunteer