"The prospect of the leadership program was exciting for me because there was so much opportunity. As a founding member of the program in the College of Communication and the Arts, I have the ability and responsibility to shape the program into something that is beneficial to future students to help us become better leaders."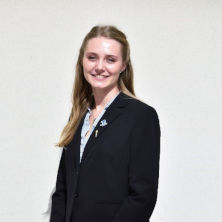 Diligent and passionate, charitable and inspiring—that is Madison Vance. Growing up, Madison has always had a strong inclination towards academics. For her, learning was something that she actually enjoyed, apart from her other interests in reading and writing. However, her excitement towards school was something that she did not want to simply have for herself. She wanted to share this interest with others, and tutored students on the side. With her strong drive to render service, her job was not merely teaching; rather, she was inspiring others to enjoy learning as well.
"Self-sacrificing to a fault," Madison is just like any leader, ready to engage herself in responsibilities that contribute to universal development—and that was what made her choose Seton Hall University and join the Leadership Program. Albeit she is sending herself far away from home, Madison took the chance of joining the university to find a new environment that will accept, and nourish her. She hopes that Seton Hall University and the Leadership Program will be her chance to seize opportunities and be a pioneering student towards shaping and improving the program and the students who will become the future leaders of tomorrow.
To date, Madison still continues to push for excellence in her studies and in her activities. Thus, she has been competitively selected to be in the first Buccino Leadership cohort. In addition, she works hard being in her major of communications and public relations as well as being part of the Honors Program. Furthermore, she has also been an active volunteer in DOVE's Service Saturdays.
Looking far ahead into her career, Madison has a strong potential in becoming not only a successful individual but a dependable leader, too. She has strong goals of achieving real life experiences, transferable skills, as well as internship opportunities in her stay here at Seton Hall University and in the Leadership Program. She hopes to one day be involved in a sorority, write for The Setonian—a university newspaper, and build up a plethora of skills to transfer to the professional setting. With high hopes, Madison dreams of finding the place where she belongs and where she can push to be the best person she can be.

Seton Hall Career Highlights:
Competitively selected to be in the first Buccino Leadership Institute cohort
Co-chair of two Initiatives of the Leadership Program
Student in the Honors Program
Volunteered in service for DOVE