Lorra de Guzman
Nursing major
Mount Royal, New Jersey
"In mainstream media, the leaders portrayed within the hospital are normally depicted as the doctors. However, I want to show that nurses can have that role too. Through the leadership program, I strive to be a walking example of how extraordinary and vital it is to have a nurse with a leadership background on the team."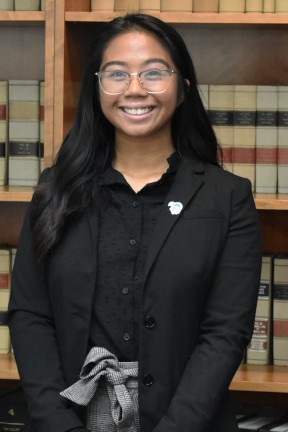 Lorra de Guzman is the embodiment of what a great mind can do. She was born in Manila, Philippines, and moved to Mount Royal, NJ when she was three. Being raised by two immigrant parents, she had the virtues of hard work and perseverance instilled into her at a young age. She is inspired to go above and beyond every day to thank her parents for bringing her to America for a better life. During her high school career, Lorra showcased outstanding leadership through various clubs and volunteer organizations. She competed in HOSA, Health Occupational Students of America, for the event Prepared Speaking in Sophomore, Junior, and Senior Year. She placed second in Regionals, first in States, and in the Top 10 in Nationals in 2017. She continued her leadership roles through fencing and learned how to be successful, individually and with a team. Another way of showing leadership is serving others, and Lorra practices this skill through volunteer work. From Freshman year of high school to the present, Lorra volunteers at the Camden Ronald McDonald House. There, she cooks breakfast from time to time for residents and creates unforgettable connections through personable conversations. Her experience with the residents and their families, hearing their stories of pain and hope, strengthened her goal of becoming a nurse and pursuing her BSN.
Lorra committed to Seton Hall for its incredible nursing curriculum and well-known reputation within the healthcare community. The nursing faculty was supportive of all their students and showed how adamant they were about wanting to shape the best nurses from their program. Lorra knew that her nursing career would flourish to the best of her ability as a Seton Hall Pirate.
Furthermore, Lorra was competitively selected in the Buccino Leadership Institute. She believes that great leaders never stop trying to better themselves and their skills. This led her to apply to the Institute, hoping to improve her ongoing leadership roles and help others enhance their skills through her newly learned knowledge from the program.
Lorra is currently a member of the Strategic Communications social media team for the Buccino Leadership Institute and helps run the weekly Instagram takeovers. She is also a member of WiSTEM, a student organization dedicated to providing a community and support to women and gender minorities in STEM majors. Looking forward to the future, Lorra hopes to land an internship over the summer and become a Peer Advisor, working side by side with students and helping them flourish throughout their college careers.
Seton Hall Career Highlights:
Competitively selected into the Buccino Leadership Institute
Member of the Institute's Strategic Communications Initiative
Member of WiSTEM