"To first strive to be the best version of myself, means to be a leader who is dependable at last. As I am most passionate about health care, after pursing an education to be my best version, I aspire to provide service and advance health care systems around the world through traveling, and thus also flourishing into a dependable leader."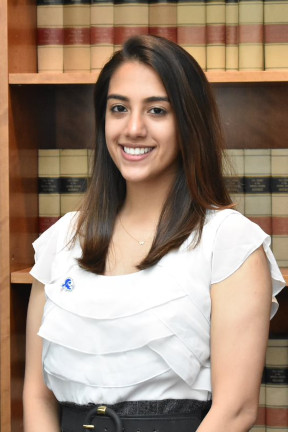 If you are looking for someone flexible, optimistic, and a team player, Lamiyah is the person to go. Lamiyah Rajai was born and raised in India but moved to New Jersey when she was eight years old. This transition has shaped her to be adaptive to her surrounding environment. Through this huge move, the athletic program in her town helped her adjust to her new surroundings. Playing sports allowed Lamiyah to form a special bond with her teammates because everyone put aside their differences to work together. This experience taught Lamiyah to value teamwork. It also made her realize that crowds filled with differences form communities through effectively communicating their diverse ideas to achieve an ultimate goal.
During the summers of her high school career, Lamiyah attended Hindu Youth Summer Camp, serving as part of a team that taught campers about their heritage and built a sense of pride and appreciation for their cultural roots and individuality. In 2018, as a counselor, Lamiyah was responsible for five campers, pushing her to build creative conflict-resolution skills and enhance her communication skills with a variety of age groups. The following year, Lamiyah was a Co-Director of the camp, which meant training counselors, scheduling trips such as kayaking and overseeing all activities, and ensuring that all 74 campers were healthy, safe, and enjoying their two weeks away from home. Being able to see the camp from a new perspective, Lamiyah realized that as a leader you cannot just accommodate who you are working with but also who you are giving to. Loving the idea of giving back to her community and following her passion, Lamiyah became an EMT in 2018 and volunteered at the Dumont Volunteer Ambulance Corp. up till the Summer of 2020.
Lamiyah Rajai committed to Seton Hall University due to the well-rounded and challenging curriculum offered by their six-year Physician Assistant dual degree program. The faculty and PA graduate students' panel depicted a strong sense of teamwork, valuing hands-on learning techniques. Moreover, Lamiyah was also competitively selected in the Buccino Leadership Institute. Carrying with her a burning curiosity to learn and explore, the opportunity to a challenging education, enthusiastic community, and a leadership family drove Lamiyah to proudly choose to be a Pirate for the next six years. She looks forward to building on her education alongside her connections with others in the community and beyond.
Lamiyah is currently a Resident Assistant in Xavier Hall and enjoys contributing to and being a part of such an encouraging and cheerful community. She is also a part of Black Illusion, which is the Black Student Union Dance team that performs in various events throughout the semester. Additionally, Lamiyah is a member of the newly formed Diversity and Inclusion Initiative for the Buccino Leadership Institute. Looking forward, Lamiyah seeks to find a shadowing opportunity with a Physician Assistant and aims to continue serving the community.
Seton Hall Career Highlights:
Competitively selected into the Buccino Leadership Initiative
Member of the Institute's Diversity and Inclusion Initiative
Resident Assistant
Volunteer Emergency Medical Technician
Member of Uplift SHU