Krizzia Erika Barez
Biology major
Davao City, Philippines
"Leadership is not a momentary position or title an individual achieves; rather, it is the continuous process of being an inspiration, motivation, and example— leaders are the people who foster the growth and development of everyone, to translate visions into realities. I am someone who has been, who will be, and who continues to be that kind of leader."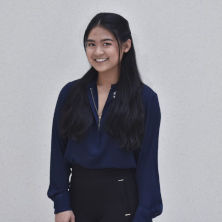 Passionate and compassionate - both words perfectly describe one student of the Buccino Leadership program, and that is Krizzia Erika Barez. Throughout her life, Erika has engaged herself in two main passions: the field of arts and the field of service. She has always been strongly inclined towards the sciences, but her childhood experiences have also instilled in her a strong appreciation for the arts. Growing up, she immersed herself in playing the piano, painting, dancing, sculpting, and photography. Being a diligent student, these activities were outlets for her expression and personal creativity. Erika has always been into servant leadership being a mentor and volunteered student facilitator. She is a charitable individual with experiences in teaching the youth that have less educational opportunities and participating in feeding programs for the less fortunate. She said, "I wanted to do something at least once a month to give back to the community."
With her strong drive to excel in academics and her pursuit of greater opportunities, Erika was willing to travel far distances for her dreams. Erika is in fact an international scholar from the Philippines. Without prior plans of studying abroad, an invitation from Seton Hall University opened her eyes to expand her horizons, altering her course for her future. Entering Seton Hall as a Biology major, she is a student anticipating the things in store for her future. Although being in a completely different environment, she took up the opportunity to discover, challenge, and push herself to further heights. "I thought that studying here would be a great opportunity for me to go beyond my comfort zone, immerse myself in a new community, and learn new things."
Born with tremendous potential, Erika grew up continuously enhancing and developing her skills in leading. She was active in school programs, internships, and research groups, both local and international. Thus, she had great hopes in joining the newly established Leadership Program for the College of Arts and Sciences. Being a pioneering student in the highly esteemed program, she has great aspirations to expand her leadership skills, "learning how to apply them within the real world," and grasping experiences to help her turn her visions into realities. She has great plans of maximizing the opportunities of the program, from mentoring to interdisciplinary work, to shape the program for future leaders of the community.
Erika is currently involved in several groups, volunteering at a youth camp as well as being part of clubs such as FLASH (Filipino League at Seton Hall) and MAPS (Minor Association for Premed Students). FLASH enables her to stay connected to her culture and heritage and MAPS exposes her to a new community of passionate students with the same ambitions of becoming medical professionals. Her career at Seton Hall has just started but she has high hopes for the future. "I just hope to have experiences, no matter what they may be."
Seton Hall Career Highlights:
Competitively selected to be in the first Buccino Leadership Institute Cohort
MAPS (Minor Association for Premed Students)
FLASH (Filipino League at Seton Hall)
Volunteering Efforts