Positivity is the basis for all your leadership endeavors.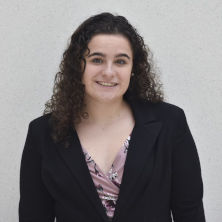 Kaylee Qualteria has always known that she wants to be a teacher. In her senior year of high school, she participated in a field study in which she got hands-on experience as a teaching assistant in an elementary school classroom. The opportunity made her fall in love not only with her class of fourth graders, but with what she hopes to be her future profession.
Kaylee was raised in Quakertown, Pennsylvania, where she lived with her parents and two brothers. As the oldest sibling, she served as a guide to her two younger brothers. She graduated from Quakertown Community High School in 2018. She was president and treasurer of her school's Model United Nations, a member of her chapter of the Key Club, student council, and a member of the National Honor Society.
When selecting a college, knew she wanted a campus that was not only beautiful, but that also provided a high-quality teaching program. After seeing the campus in-person and attending an open house, Kaylee "fell in love with Seton Hall." She enjoyed learning about the various opportunities offered by the College of Education, particularly the Primary and Special Education programs. She is very excited to see all that the education program has to offer and believes that the program will successfully prepare her chosen profession. In addition to the program, the upperclassmen she interacted with at Seton Hall were incredibly helpful in explaining their experiences.
Growing up, her father would remind her every day to "be a leader, not a follower." She is excited to learn more about leadership in different fields and to develop as a leader. Kaylee is particularly interested in improving her leadership skills in order to pass what she learns onto her future students. She believes that "in order to be a good leader you must also teach others how to lead."
In addition to education, Kaylee is also interested in psychology. After receiving her undergraduate degree, she is considering obtaining a certificate in Applied Behavioral Analysis. Ultimately, Kaylee hopes to one day teach at an exceptional elementary school.
Seton Hall Career Highlights
Competitively selected to be in first Buccino Leadership Institute cohort for Stillman School of Business
Member of the Red Cross Club, where she helped organize a blood drive
College of Education and Human Services Senator for the Student Government Association
Member of the Student Alumni Association