"The best way to find yourself is to lose yourself in the service of others." -Mahatma Gandhi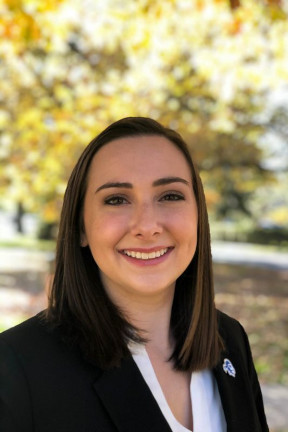 Being an introvert does not stop Kayla Loges from successfully leading her team; in fact, she views introversion as one of her greatest assets. As a graduate from Freehold Township High School in her hometown, Freehold, NJ, Kayla came to Seton Hall University ready to grow as a servant leader.
During her high school years, Kayla was actively involved in community service. Kayla was a peer minister in her Youth Group at the Co-Cathedral of St. Robert Bellarmine. Through her Youth Group, she volunteered with the Blessing Bag Brigade, making and distributing care packages to the homeless throughout New Jersey and New York City. Kayla also volunteered at the Special Strides Riding Center, where she helped people with disabilities interact with and ride therapy horses. It was there that she discovered her passion for the field of occupational therapy. Kayla expressed, "I was fascinated by the creative approaches that were taken to address the individual as a whole, beyond purely the physical and; I felt grateful to be a small part of their journey of discovering how to navigate the world."
Upon stepping onto campus, Kayla knew that Seton Hall University was a place that she could find herself spending her next four years. She was drawn to the welcoming environment and sense of community that Seton Hall created. The 3+3 Occupational Therapy program was another aspect of Seton Hall that Kayla believed would provide her with the knowledge and skills that she needed to be successful. Upon learning about the Buccino Leadership Institute, Kayla's decision was solidified. "The Buccino Leadership Institute was unlike any leadership development program that I had heard of at the undergraduate level."
Kayla stays active on campus through her involvement in multiple clubs and organizations. She is a member of Alpha Phi Omega, a co-ed service fraternity; RallyCap Sports, a special needs sports league; Best Buddies, a one-on-one friendship program for individuals with intellectual and developmental disabilities; and Piratethon, a 12-hour dance marathon that raises money for the Valery Fund, an organization that supports families and their children with blood disorders and cancer.
As a member of the Buccino Leadership Institute, Kayla is eager to take part in the unique opportunities to grow in both areas of personal and professional development. She believes that this program will push her beyond her comfort zone, helping her gain confidence in her leadership capabilities to successfully lead in her profession and serve others.
Seton Hall Career Highlights:
Competitively selected into the Buccino Leadership Institute
Piratethon, Fundraising Chair
Alpha Phi Omega, VP of Leadership
RallyCap Sports, Volunteer
Best Buddies, Volunteer
College Success 4 U podcast, Student Consultant