Katie Mazzarelli
Nursing major
Old Bridge, New Jersey
"Leadership to me is stepping forward, setting a positive example, and ultimately inspiring others to follow. In the Buccino Leadership Institute, I believe that I will be instilled with skills that will make me successful in my future career. Nursing is a profession that demands leadership every day, and I know that I will be prepared."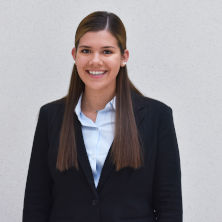 Katie Mazzarelli has been primed for leadership since high school, whether it was leading on the pitch playing soccer or starting a fishing club with over one hundred members—but she hopes to take her leadership in a different direction at Seton Hall and beyond.
Katie was inspired to pursue a career in nursing after watching a nurse treat her grandfather with ALS. She was drawn to Seton Hall because the nursing program would be a great first step in helping achieve her goal of becoming a nurse and ultimately being able to serve others in the same way as the nurse who inspired her. With the Interprofessional Health Sciences Campus opening last year, Seton Hall was the right choice for Katie to pursue this goal. Additionally, the beginning of the Buccino Leadership program in the College of Nursing was an exciting opportunity for her. "It felt like a close-knit community," Katie says. "I heard Dr. Katherine Connolly (Associate Director and in charge of the nursing leadership cohort) speak about the program at a Seton Hall open house, and then I spoke with her one-on-one and was inspired to join the program."
As a founding member of the Buccino Leadership Institute in the College of Nursing, Katie is excited about the opportunities that will be available to her. "I want to leave Seton Hall with the confidence and skills to succeed and thrive in my career as a leader," Katie says. She is hopeful that being a member of the leadership cohort will help develop practical skills and further her leadership traits to prepare her for a successful career.
At Seton Hall, Katie is involved in activities such as the Student Nurses Association and the Global Medical Brigades Club, which she hopes will help her to grow even more in her chosen career path. Additionally, Katie has committed herself to the service of others and is a Servant Leader Scholar at Seton Hall. She hopes to use these medical and service experiences to prepare her for her professional career in nursing.
Seton Hall Career Highlights:
Competitively selected to be a member of the first Buccino Leadership Institute cohort
Member of Student Nurses Association
Member of Global Medical Brigades Club
Servant Leader Scholar