"You can't view your teammates as assets. People have beating hearts! They're multidimensional! They're fully realized creations! And being a leader, that's just being part of something bigger than you and your team, no matter what it is."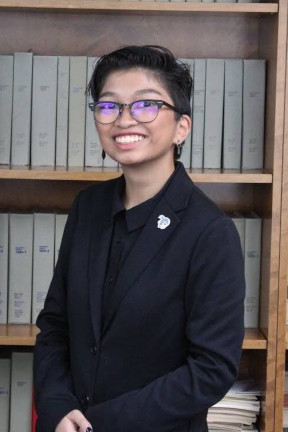 In their time at the Buccino Leadership Institute, Kai has learned to bottle their chaos and transform it into adaptable leadership. In high school, their interests were scattered, including membership in their school's Odyssey of the Mind team, the National Art Honor Society, and their school newspaper, as well as leadership positions in the French Honor Society, Broadcast Journalism Team, and Reading Olympics Team. Kai's goal at Seton Hall was to think seriously about their career and only focus on their academics and future career, so being in The Buccino Leadership Institute seemed like a natural fit.
While exploring Seton Hall's various activities relating to their major, Kai quickly joined WSOU and The Seton Hall Undergraduate Leaders Podcast, highlights of their Seton Hall career. Both activities lent themselves well to Kai's manner of working, which can be loose and improvisational. The opportunities to interview people for WSOU and SHULP have helped Kai develop both aspects, bringing their spontaneous nature into an unpredictable medium. Kai believes these interviews- which can include anyone from a college student to the lead singer of a metal band- to be some of their best work.
However, Kai has also delved into activities that stray from their initial interests in journalism and visual and sound media. While their priorities laid in developing skills they needed for their major, these other endeavors have enriched Kai's experience at Seton Hall. One of these experiences was The Gaming Sector, where Kai takes an active role in their tabletop roleplay game department. Kai now leads games for other members of the club and is slated to lead the tabletop roleplay department in Fall 2021. Their goal for the club is to diversify the games offered and to spread their love of tabletop roleplaying games to the rest of Seton Hall. Kai's experience in the Gaming Sector has also unexpectedly developed some of the skills needed for their career of interest, which include interpersonal communicating, creative thinking, writing, and problem-solving.
Kai's time at Seton Hall has turned them into a quick-thinker, always ready to take the opportunity they see in front of them. While they have deviated slightly from their goal for complete focus on their major and the skills related to it, the other adventures they have embarked on while studying at Seton Hall have turned their experience into something multi-dimensional and fully realized. Kai hopes they can take what they've learned into whatever they do after Seton Hall- and for them, they believe the sky's the limit.
Seton Hall Career Highlights:
Assistant Programming Manager at WSOU
Lead Interviewer and Production Assistant at Seton Hall Undergraduate Leaders Podcast
Active Member of Award-Winning Ethics Bowl Team