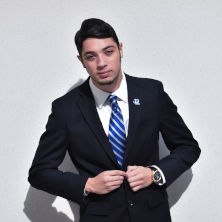 Justin Sousa is a student at the College of Communication and the Arts and of member of the Buccino Leadership Institute. Within the communication cohort, Justin manages the group's social media accounts and helps with arranging community-building nights with fellow cohort groups.
He is also a writer for the campus newspaper, The Setonian. Justin writes for the sports section of the newspaper and has mainly been tasked with game recaps for several sports teams at Seton Hall.
Outside of school, Justin is a freelance writer for youth soccer blog Scouted Football and Red Bulls News Network (RBNN), a blog whose work focuses primarily on the Red Bull soccer clubs in New York, Leipzig, Germany, and Salzburg, Austria. He also manages the social media accounts for Scouted Football on Twitter and Instagram.
Justin's work for Scouted Football includes various "Team of the Tournament" pieces that pertain to the best performers at an international youth tournament. Highlights of his work thus far include interviews with D.C. United midfielder Chris Durkin, Colorado Rapids midfielder Cole Bassett, and Chicago Fire midfielder Djordje Mihailovic. He has also written pieces on the rise in Canadian youth soccer talent around the world, and the comeback season Reggie Cannon had in 2018 for FC Dallas.
In his short time with RBNN, Justin has written match previews and recaps for the MLS and USL franchises in New York.
Since high school, Justin has always known he wanted a career that pertained to writing. Some of his major inspirations were his sophomore year and junior year English teachers who took notice of his affinity for writing. Along with his love of sports, soccer specifically, Justin decided to pursue an education that would help him become a sports journalist. One day he hopes to write about Major League Soccer for The Athletic. His ultimate goal in life is to attend and report on the 2026 World Cup hosted across Mexico, Canada, and the United States.
Seton Hall Career Highlights:
Competitively selected to be in the first Buccino Leadership Institute cohort for the school of Communication and the Arts
Active member of the Seton Hall campus newspaper, The Setonian
Active member of the Buccino Leadership Institute Podcast's strategy and interviewing teams
Active member of the Buccino Leadership Institute's student advisory board