"Even though I've only been in it a short time, the Buccino Leadership Institute has taught me so much. Beyond leading others and myself, it has taught me immensely valuable lessons that I can apply to all walks of my life."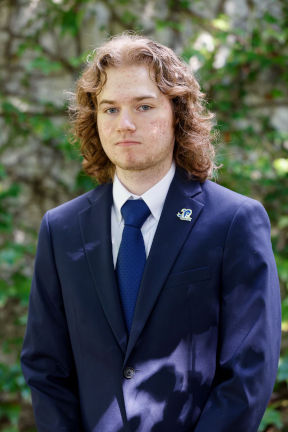 From a young age, Joe had a penchant for two things, creativity and sports. If you see him on campus at Seton Hall, it's likely working at a sports game or working on his computer making content. Knowing he wanted to do something in the creative arts and sports from the get-go, Joe attended Communications High School in Wall, NJ, a highly selective magnet school that specializes in communications and the arts. During his time there, Joe was able to begin to hone his skill set, and upon coming to Seton Hall, was ready to hit the ground running. With that said, applying to join the Buccino Leadership Institute was a no-brainer. Joe was drawn to the Institute because of "how rewarding an experience it seemed to be for everyone who came through it", and he has already begun to see just how impactful it is on a young professional like himself.
Joe has a wide variety of experience with almost all aspects of the creative arts, be it graphic design, video production, audio production, broadcasting, or any other facet one could think of. He aspires to one day be able to turn his immense passion for both the arts and sports into a career and has felt that Seton Hall is the best possible place for him to work on that goal.
At Seton Hall, Joe has put his creative skills to use, and is heavily involved in several organizations on campus. He is an Assistant Sports Director at WSOU 89.5 FM, where he helps organize the production and editing of multiple weekly podcasts, as well as helping to oversee graphic design and social media content for WSOU Sports. In addition to participating in other organizations such as Pirate TV and PSN, Joe has also taken on a role producing graphic design content for Seton Hall's athletics department, creating works that have reached audiences of over 15,000 people.
In all of these endeavors, Joe has aimed to apply his skills as a leader. He hopes that with those positions, as well as the help of the Buccino Leadership Institute, he will be able to build even further on his skills as a leader. As Joe aspires to develop a career in either sports or the creative arts, he knows that the experience and knowledge he picks up as a part of the Institute will prove very valuable.
Seton Hall Career Highlights:
Competitively selected into the Buccino Leadership Institute
Assistant Sports Director at WSOU 89.5 FM
Member of Pirate TV
Member of Pirate Sports Network
Assists in graphic design for SHU Athletics