"Leadership is not a one-size-fits-all position, nor is it only found on television or big stages. Leadership is found in the everyday and in everyone."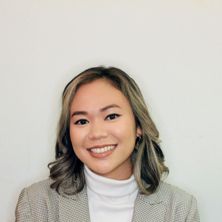 Behind Johannah Manon-og's natural introversion is a reflective and empathetic leader. Her leadership style comes from a place of humility, allowing her to be inclusive of each member's feelings and ideas, and keep the overall team's best interest in mind. Her love and passion for working with children stemmed from a young age. She wants to be a champion for young minds whose abilities and impact on society are often overlooked and unprioritized.
Johannah is a first-generation American who lives in Union, NJ with her mother, father, and dog. In addition to being competitively selected to serve in the first Arts and Sciences cohort of the Buccino Leadership Institute, she is also enrolled in the Dual Degree program for Occupational Therapy. Her goal is to become a pediatric occupational therapist and she dreams of opening her own pediatric clinic that welcomes special needs children.
In addition to being part of the leadership program, Johannah is highly involved in other areas of campus. She has studied through the University Honors Program and is an active peer educator in KNOW MORE. She is also the occupational therapy representative on the Dean's Undergraduate Student Cabinet for the College of Arts and Sciences. In the Fall of 2019, Johannah, alongside other Buccino leaders, organized a campus-wide domestic violence summit to spread awareness of the signs of domestic violence and resources for recovery. With the donations accumulated from the project's fundraisers, winter clothing was purchased and delivered to an emergency shelter. She hopes to continue serving the Seton Hall community when she begins her graduate studies at the Nutley campus in her fourth year.
When she is not in class and studying, Johannah works at a local daycare as a teacher assistant. Over the last three years, she has worked with children from the ages of two to five, not only teaching but being taught by them. Through this work experience, she has learned how to manage and interact with young children which she believes will be beneficial in her pursuit of pediatric therapy.
Through the Buccino Leadership Institute, with the help of her leadership coach, advisors, and peers, Johannah has developed a leadership style that comes naturally to her. While she may not be the most vocal and assertive leader, she is a deep thinker who knows how to accurately assess the room and solve problems in a considerate, team-oriented manner. She enjoys any opportunity to serve the greater good and produce quality work. Johannah is endlessly grateful for the leadership program, which allowed her to uncover the leader in herself she never knew was there.
Seton Hall Career Highlights:
Competitively selected to be in the first Buccino Leadership Institute cohort
KNOW MORE Peer Educator
Dean's Undergraduate Student Cabinet
University Honors Program