Jessica Olsakowski
Biology major
Bridgewater, New Jersey
"I have past leadership experience as both a soccer player and a student. In high school, I would encourage and help my teammates on the field, while offering assistance and support in the classroom as well. I hope to carry these qualities with me throughout life as I study to become a physical therapist."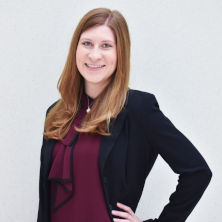 Jessica Olsakowski is a young woman who possesses determination, motivation, and a passion for life. As a student she ranked in the top five percent of her high school class and made the high honor roll every quarter. She is a member of the National, Science, and Math Honor Societies. Her involvement goes beyond the classroom walls as she has been involved in many community service outlets, such as making food for the homeless and volunteering at the Somerset Regional Animal Shelter. In her spare time, you can find her playing soccer, watching the Yankees, and cooking or baking. With playing soccer she has unfortunately encountered many injuries such as sprained ankles, pulled muscles, and even broken bones. However, these painful challenges have shone a light on Jessica's calling, "I had to endure countless hours of physical therapy to heal my injuries and had to be patient and persevere to get back on track and on the soccer field," as she is pursuing a career in physical therapy.
Jessica chose Seton Hall for a few reasons. She wanted her college experience to embody a second home. She chose the university because it is a relatively small Catholic institution. As for her profession, Seton Hall offers a dual degree physical therapy program. Another main reason was the location, as it is rather close to home, allowing her to visit her family often. Significantly, the leadership program offers an experience like none other. "Seton Hall's leadership program will help me become a better leader as a physical therapist, and hopefully allow me to open my own practice one day," making Seton Hall the perfect home for her.
Jessica entered the leadership program with great hopes and aspirations. She works hard and knows the essence of a good work ethic. With this, she is a strong member within the first Buccino Leadership Institute cohort, working towards acquiring leadership qualities that can be used when she becomes a physical therapist. The leadership program allows Jessica to learn beyond the classroom and develop skills to conquer the world. In her own words, "I want to open up more and feel more comfortable directing and teaching others through action."

Jessica is a young woman who is goal-oriented and unstoppable in achieving them. Her greatest desire, and dream job, would be to work as a physical therapist for the New York Yankees. Her second plan of action is to open a physical therapy office of her own and have her father work with her. With a positive outlook on life, a drive to succeed, and a desire for pushing the boundaries, there is no doubt with the skills presented in the leadership program, Jessica Olsakowski will achieve her career goals.
Seton Hall Highlights:
Competitively selected to be in first Buccino Leadership Institute cohort
Helped run/begin College of Arts and Sciences first annual Christmas Coloring Book Drive
Actively supports Seton Hall's basketball team by attending games and participating in the University's first Morning Madness event