"In high school, I discovered a passion for healthcare, but I also knew I had a business mindset— I am forward-looking, an implementer, a doer, and a go-getter. Utilizing my business acumen at a healthcare company will allow me to bring an unmatched level of passion for my work. When you are truly passionate about what you do, you excel."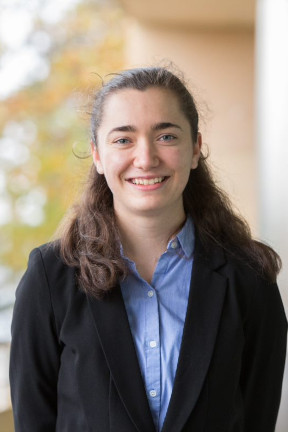 Jessica Moran embodies the concept of always doing your very best. She has excelled, in and outside of academics, because of her ability to bring a heightened level of enthusiasm, dedication, and diligence to all that she does. She understands the words of President Calvin Coolidge, who said, "In life, there is nothing more common than talent and intelligence. What is missing is passion, persistence, commitment, and dedication."
Jessica loves leading others, solving problems, and helping others in some of their most challenging moments. Graduating as Salutatorian and Class President of the Academy for Allied Health Sciences Class of 2019, Jessica has always appreciated continuous learning and the privilege of leading others. Equally important, Jessica values the gift of serving her community as a volunteer Emergency Medical Technician on the Berkeley Heights Volunteer Rescue Squad, where she has learned the great value of compassion and selflessness.
Currently, Jessica is pursuing her passion for business as an accounting and management double major at Stillman School of Business. Further, Jessica was competitively selected to be a member of the renowned Buccino Leadership Institute and the only Buccino Scholar for the entire leadership Class of 2023, where she receives direct mentorship from Dr. Buccino. Jessica hopes to bring all the leadership and emotional intelligence skills that she learns from her time at Seton Hall to a healthcare-related business where she can make her business work meaningful.
Through her academic studies and involvement in various organizations on the Seton Hall University campus, Jessica has developed great analytical, critical thinking, and collaboration skills. Jessica is the Vice President of Operations and Finance for HOSA-Future Health Professionals, an Editor for the Trending section of The Stillman Exchange, a member of the Accounting Club, and heavily involved in numerous initiatives within the Gerald P. Buccino '63 Center for Leadership Development. She hopes to continue to strengthen her current skills and traits for her professional career.
After earning her undergraduate degree, Jessica intends to obtain her CPA license and make a career in Accounting/Finance for a healthcare-related company. She also aspires to run for public office and represent constituents. Jessica is excited about her upcoming Summer Finance/Accounting Internship with Stryker in Mahwah, New Jersey. Jessica will continue to successfully use her time at Seton Hall to develop herself into a future business leader of tomorrow.
Seton Hall Career Highlights:
Competitively selected into the Buccino Leadership Institute
Buccino Scholar for the Institute's Class of 2023
Vincent Cestone Scholarship Recipient
Vice President of HOSA- Future Health Professionals
Editor of the Trending Section of The Stillman Exchange
Class Representative for The Gerald P. Buccino '63 Center for Leadership Development
Member of Beta Alpha Psi
Accounting and Finance Intern at Stryker, Corporation
Volunteer EMT at the Berkeley Heights Volunteer Rescue Squad.