"To me, diplomacy and leadership go hand in hand. In both circumstances it is about putting others, rather than yourself, first. It is only through leading the people that progress can be made in society."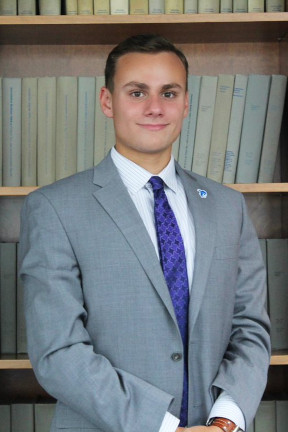 Ever since his childhood, Jack has been fascinated with geography and politics, namely the different ways in which leaders across the globe run their countries. Adorned with world flags and terrestrial globes, his bedroom only demonstrates the growth of this passion over time. It was no surprise when Jack decided to enroll at Seton Hall as a Diplomacy and International Relations major.
Hailing from Nutley, New Jersey, Jack chose the alternate route of attending private high school at Bergen Catholic. There, he held officer positions in several clubs, was a member of five honors societies, and played on two varsity sports teams. Jack was even one of the founding members of Bergen Catholic's Varsity Platform Tennis team, which played in the first-ever high school platform tennis match. After graduating first in his class, Jack wanted a college that would challenge him intellectually while also catering to his interest in world politics. Seton Hall's accomplished School of Diplomacy was the perfect fit for him. Its proximity to New York City, combined with Jack's acceptance to the competitive Buccino Leadership Institute, made his decision to enroll at Seton Hall extremely obvious.
At Seton Hall, Jack has continued to flourish in all aspects of life. While maintaining a part-time job at a restaurant in his town, he is an active member of the Slavic Club and the University's Honors Program. Besides majoring in Diplomacy, Jack has also added a major in Modern Languages, focusing on Russian and Chinese. He also plans to minor in Asian Studies and Russian and Eastern European Studies. Additionally, Jack is a representative of the Diplomacy Cohort within the greater Buccino Leadership Institute. The cohort has provided him numerous perspectives on leadership presented by various speakers from around the world. This diverse mindset has inspired Jack to take up an interest in the Foreign Service, where he hopes he can serve the interests of the American people abroad. Jack believes that the Buccino Leadership Institute will help him nurture the necessary skills to continue his servant-leadership in his future career.
Seton Hall Career Highlights:
Competitively Selected into the Buccino Leadership Institute
Member of Seton Hall University Honors Program
Dean's List Fall 2019, Spring 2020, and Fall 2020
Teacher's Assistant for Elementary and Intermediate Russian Classes