"You can't always be strong, but you can always be brave."-Anonymous Author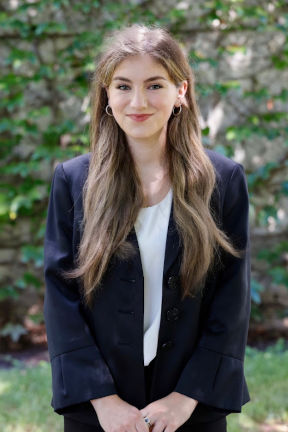 From Franklin Lakes, New Jersey, Isabelle fulfilled her childhood dream of becoming a pirate when she decided to attend Seton Hall University. Although she didn't find herself sailing on the high seas, Isabelle found herself a part of something even better: the Buccino Leadership Institute. From the moment Isabelle was accepted into the program, she knew that it would help her in achieving her goal of becoming an attorney.
Founder of her school's political debate club, captain of her high school's mock trial team, and Vice President of the National Honor Society, Isabelle has always understood the importance of strong leadership. Because of this, she saw the Buccino Leadership Institute as the necessary step in advancing her skills as a leader. In fact, she considers the Buccino Leadership Institute "the main aspect that set SHU distinctly apart from other institutions." Isabelle felt that Seton Hall was the only school she applied to that truly appreciated who she was as an individual and saw her potential as a leader.
In the Buccino Leadership Institute, Isabelle has made an active effort to be as involved as she possibly can. She helped interview and evaluate applications of applications to the program, going on to be selected as the Co-Chair for the committee in 2021. She also helped the college in search of their new Dean of Arts and Sciences by serving on the student interview committee. In the future, Isabelle hopes to continue to learn the proper skills and industry knowledge to become "a powerful and successful attorney." Her goal throughout her participation in these extracurriculars is "to challenge herself to be a better leader than yesterday."
Seton Hall Career Highlights:
Competitively selected into the Buccino Leadership Institute in the Arts and Sciences Cohort
Served on the Buccino Leadership Institute Admission Committee for the Arts and Sciences Cohort for the 2020-21 and 2021-22 academic year
Aided in the search for Seton Hall's new Dean of Arts and Sciences as part of the student interview committee
Selected as Co-Chair for the Buccino Leadership Institute Admission Committee for the Arts and Sciences Cohort in 2021
Director of Ritual Education for Alpha Omicron Pi Sorority