"As a teacher, I want to be a great role model to my students which requires me to be a leader both in and out of the classroom. Being empathetic, kind, respectful, and hardworking throughout my life will cause my students to take those same values into their own lives."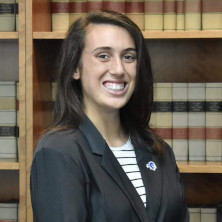 Hailing from Cary, North Carolina, Gabriella Adornetto brings her passion for teaching others to Seton Hall. In high school, she was incredibly involved: Vice President of her high schools chapter of the National Honors Society for Dance Arts and a member of the National Honors Society and the Key Club. She also was a dedicated member of Springs Dance Company at Holly Springs School of Dance for eight years. Gabriella was eager to bring all this experience, knowledge, and excitement into her life at Seton Hall.
Gabriella has been passionate about becoming a teacher for as long as she can remember. She was always playing school with her sister before even being old enough to be a full-time student. Gabriella taught dance classes her junior and senior year of high school and has since student-taught in two elementary schools. She loves working with kids and ensuring that all students receive a high-quality education no matter their ability, background, or location. She is eager to further develop her passion and skills in the classroom throughout her time at Seton Hall.
She chose Seton Hall because of the multitude of one of a kind opportunities that would be available to her throughout her undergraduate career in a wide variety of departments and disciplines. The College of Education and Human Services has a thorough and hands-on curriculum that includes many opportunities for growth through experience that Gabriella was very motivated to join. She is very excited to continue exploring opportunities both within the college and across the University.
Gabriella is honored to be a member of the Buccino Leadership Institute. She is looking forward to continuing to improve her communication and leadership skills through mentorship, interdisciplinary projects, and the application of the Institute's seven pillars. She enjoys the opportunities to work with students of different majors and backgrounds as well as with experienced professionals both within and outside of the University. These experiences cannot be found anywhere else on campus, so she is very thankful to have access to them through the Institute.
On campus, Gabriella is a Peer Advisor in the Freshman Studies Department. She assists with Pirate Adventures over the summer and University Life classes during the fall semester that are required to be taken by all students in their freshman year. She loves guiding new students in falling in love with Seton Hall and making the transition to college life. Through her experiences in this position, Gabriella has developed her leadership skills even further while also expanding her teaching experience.
Being on Seton Hall's campus made Gabriella feel a part of a supportive and like-minded community that she did not find at any other University. Her interactions with both students and faculty throughout her college search and freshman year made her committed to and passionate about making the Hall her second home.
Seton Hall Career Highlights:
Competitively selected into the Buccino Leadership Institute
Peer Advisor
Member of Colleges Against Cancer
All Member Experience Director for Kappa Kappa Gamma