Evangelin Claire Samuel
Biology major
Plainsboro, New Jersey
"The type of leader I aspire to be is someone who is relentless towards accomplishing their goal and is willing to learn each step of the way."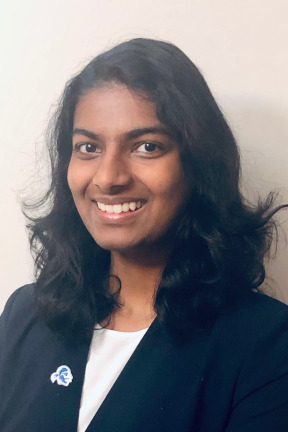 Evangelin was born in India and lived there for a few years before permanently residing in Plainsboro, New Jersey. From a young age, she knew she always wanted to pursue a career in the sciences. Eventually, that passion collided with her desire to help and serve others, leading her to pursue a career in medicine. Although she spends most of her academic career involved with STEM-related activities, she also likes to engage in the arts by playing the piano or singing in church. Some of her hobbies include playing soccer, hiking, kayaking, and reading.
Evangelin is part of Seton Hall University's class of 2023. She is a part of the university's Joint Bachelor's/M.D program and is majoring in biology with a minor in chemistry. She chose Seton Hall for its friendly environment and small size. In her time at Seton Hall, she was able to befriend many students and faculty and engage in many opportunities on campus.
Evangelin is heavily involved with the Institute's Undergraduate Leadership Podcast. Part of her responsibilities with the podcast include serving as Head of Strategy. In this role, she communicates with professionals from a wide array of fields, learning about what made them the leader they are today. From the first semester of her freshman year, she has had the privilege of researching in an organic chemistry lab. There she works with photoacid catalysts and hopes to one day publish a paper in a scientific journal. A highlight of Evangelin's university career thus far is traveling to New Mexico with Seton Hall's Habitat for Humanity Club to build adobe style houses. Through this experience, she engaged with various people from pastors to people who worked on Wall Street. Everyone was able to come together to accomplish a task and give back to the community. On campus, she volunteers with the University's Division of Volunteer Efforts (DOVE) to help in ESL classes. Although Covid-19 has made volunteering challenging, Evangelin still dedicates some of her time to service. She volunteers weekly at her local hospital, interacting with patients, and helping doctors and nurses as they work to serve our society.
By being involved in various activities Evangelin has learned an array of skills: communication, organization, delegation, responsibility, decision making, teamwork, accountability, patience, adaptability, and commitment. Through her acceptance into this prestigious leadership program, she hopes to continue to expand on her skills and continue to learn about what it means to be a leader for herself and others. It is Evangelin's goal to eventually become a doctor and return to India so she can help people that cannot afford to go to the doctor and get the proper help and medical care that they need.
Seton Hall Highlights:
Competitively selected into the Buccino Leadership Institute
Buccino Leadership Institute Podcast: Head of Strategy
Undergraduate Researcher in Badillo Group
Volunteer with DOVE
Active member of the Seton Hall Chapter of Habitat for Humanity
Hospital Volunteer at PennMedicine