Erin Murphy
Accounting major
Allentown, New Jersey
"No matter what people tell you, words and ideas can change the world -Robin Williams "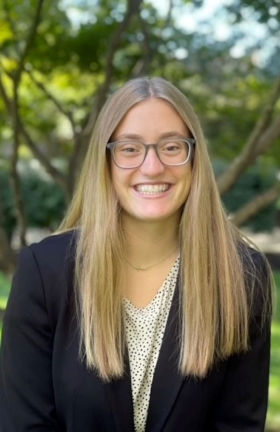 Erin Murphy left her small hometown of Allentown, New Jersey to expand her horizons at Seton Hall University. Erin chose Seton Hall because of its prestigious Stillman School of Business and her acceptance into the competitive Buccino Leadership Development Program. She knew that both these programs would provide her with numerous resources and connections to help her become the best version of herself and prepare her for the corporate world.
During her time on campus, Erin has made it a point to get involved. Within the Buccino Leadership Development Program, she is a class representative for the Business Cohort, a member of the Business Cohort Interview Initiative, and is a Co-President of the Women's Leadership Program. She also has gotten involved outside of leadership, joining clubs and organizations within the Stillman School of Business. Outside of these activities, Erin works as a Tutor-In-Residence which helps fulfill her love for helping other people. All of these activities have helped Erin get to know her peers here at Seton Hall and better herself as a student and person.
Erin lives by the words "There is no elevator to success. You have to take the stairs." This is why she dedicates herself to working hard and involving herself within the school as she knows that it will pay off greatly here at Seton Hall and in the future.
One of Erin's favorite parts of Seton Hall is the Buccino Leadership Development Program. "I have met some of my closest friends because of the Buccino Leadership Development Program. The people that are a part of leadership are some of the most genuine, caring, and determined people you will ever meet, I would consider us all to be one big family." Not only has the Buccino Leadership Development Program let Erin meet people it has also helped her refine and better her leadership skills which help her grow into a better leader. Most importantly, this program has also allowed Erin to make connections and network, letting her learn from multiple corporate executives, giving her invaluable real-world experience.
Erin is extremely driven and ambitious. After her time here at Seton Hall, she hopes to work with one of the Big Four Accounting Firms and specialize in forensic accounting. With all the opportunities that she has been offered so far at Seton Hall especially being a part of the Buccino Leadership Development Program, she knows that will be able to achieve her career goals.
Seton Hall Career Highlights:
Competitively selected into the Buccino Leadership Institute
Business Cohort Class Representative
Women's Leadership Program Co-President
Tutor-In-Residence
Piratethon Initiative Member
Business Cohort Interview Initiative Member
Beta Alpha Psi Member
Hall Street Fund Member
Accounting Club Member
Girls Who Code Member