"The interdisciplinary aspect of the Buccino Leadership Institute makes this program stand out from any other leadership program. Learning all these leadership skills is further enhanced by the opportunity to work with students across all disciplines at Seton Hall – something I knew I would not otherwise be able to do without the Buccino Leadership Institute."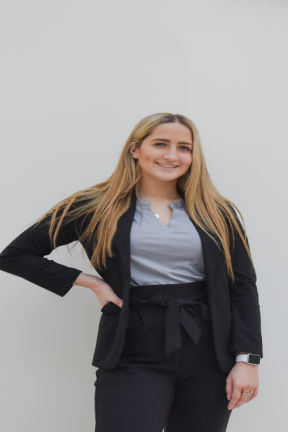 From the small town of East Hampton, Connecticut, Emily Balda knew right away that Seton Hall University was perfect to continue her academic career. With her interest in social and behavioral sciences, Emily decided to pursue a Bachelor of Science in psychology as well as a Bachelor of Arts in Social and Behavioral Sciences in the College of Arts and Sciences at Seton Hall. However, it was her admission to the Buccino Leadership Institute that finalized her decision to attend Seton Hall University.
With leadership background as varsity soccer captain, president of National Honors Society, and the Interact District Representative for southern Connecticut, Emily found that the Buccino Leadership Institute would be the perfect opportunity to capitalize on her existing leadership skills, learning to be an effective leader in this new chapter of her life, and beyond.
Through the encouragement of advisors in the Buccino Leadership Institute, Emily found herself taking on leadership roles and becoming involved at Seton Hall as soon as she stepped foot on campus. Now an active member in the Alpha Phi Eta Eta chapter at Seton Hall, Emily took on the role of Director of Campus Activities, working to fundraise towards the Alpha Phi philanthropy, women's heart health. Additionally, Emily works closely with other leadership students on the Empowered Women Empower initiative, where female guest speakers are brought in to discuss their experience as a woman leader.
Emily notes, "the Buccino Leadership Institution is a place I am able to expand and learn as a leader and understand how to challenge myself through the experience." She hopes to continue to capitalize on the leadership opportunities throughout her college career to become a more well-rounded person and someone that has leadership skills to offer in her discipline.
Seton Hall Career Highlights:
Competitively selected to be in the Buccino Leadership Institute in the College of Arts and Sciences cohort
Member of Empowered Women Empower Committee
Member of Buccino Leadership Institute Selection Committee
Director of Community Activities in Alpha Phi sorority
Member of Psychology Club
Member of National Student Speech Language Hearing Association
Student employee at Blue Crew