Dominic Kozlowski
Chemistry major
Branchville, New Jersey
"The most important thing is to try and inspire people so that they can be great in whatever they want to do." -Kobe Bryant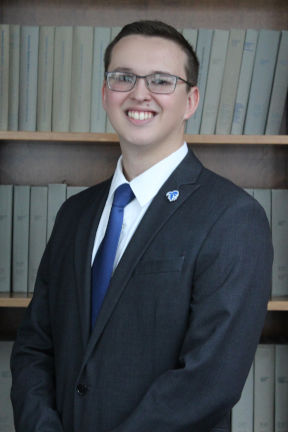 Dominic Kozlowski is a hard-working individual who tirelessly strives to accomplish the goals he has set out for himself. As a high school student, Dominic placed in the top ten percent of his class, earning high honor roll marks nearly every marking period. Dominic also was a member of several honor societies including the National Honor Society and the respective honor societies for math and foreign language. An avid Christian, Dominic helped found the youth group at his local parish with the hopes of spreading joy among the youth of his community. Dominic is a big sports fan, playing several sports in his youth. He discovered his interest in medicine when he was injured playing sports as a child. This led him to attend Seton Hall University in hopes of getting into medical school after the conclusion of his undergraduate studies.
Aside from the University's rigorous and challenging course load and connections with Hackensack Meridian Health, Dominic chose to attend Seton Hall due to the tremendous school spirit he felt when visiting campus as a high school senior. Another benefit was the proximity to his own home and family. Only being an hour away from his hometown, Dominic can travel home on the weekends to spend time with his friends and family, which he enjoys tremendously.
During the week, Dominic can be seen in the library studying or relaxing with his roommate in the cafeteria, assuming the Pirates are not playing a home game at the Prudential Center. When the Pirates play at home, Dominic is always front and center cheering the basketball team on.
When Dominic received an invitation to apply to the Buccino Leadership Institute, he decided to go all in. Dominic thought he should apply since he would not get anywhere else in the United States. After being accepted, Dominic became excited at the opportunity he had received. He looked forward to becoming the best version of himself and helping others do the same while preparing for his future career in the medical field. In the Institute, Dominic has been a member of an interdisciplinary team that suggested and successfully revised the lesson plans of the first-year introductory course to the Buccino Leadership Institute. Dominic believes that with the knowledge and experience he has gained during his time with the Buccino Leadership Institute, his potential for success and ceiling for growth have improved tremendously and he is looking forward to getting out into the workforce to help start making the world a better place.
Seton Hall Career Highlights:
Competitively selected into the Buccino Leadership Institute
Member of Blue Beard Army
Organizer with Children's Miracle Network Hospitals, through Seton Hall University's Extra Life events