"Leaders prioritize growing rather than winning"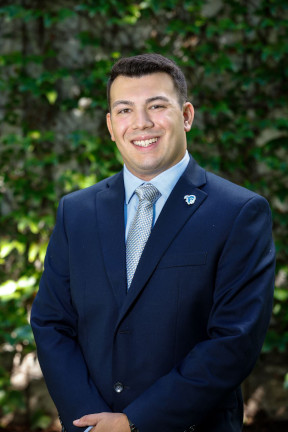 A scholar always curious and ready for improvement, Dominic could not pass up the opportunity to be a Pirate with Seton Hall's Stillman School of Business and Buccino Leadership Institute. A homegrown New Jersey native from South Plainfield, Dominic commutes to Seton Hall every week to take advantage of this opportunity to jumpstart his career as a future businessman and industry leader.
With an innovative mindset, Dominic has always had a passion for business, specifically with interests in Marketing and Business Analytics. He is transfixed on understanding consumer behavior and quantitatively understanding the "how"and "why" they act. While these interests lay at the core of his inner love for business, Dominic, being a learner at heart, chose Seton Hall with the commitment to pursue an M.B.A. following his undergraduate plans.
Aside from the great resources that the Stillman School of Business offers, Dominic knew that his acceptance into such a prestige Leadership program would enhance his leadership awareness and effectiveness in unbelievable ways. While the program has given Dominic exposure to leadership coaching, networking, techniques, and valuable life lessons - above all Dominic has greatly benefited from its culture. Being able to work with students of such diverse backgrounds, both culturally and academically, has evolved his leadership understanding, and has allowed him to better lead himself and others.
Already in his leadership journey, Dominic has been able to make a heavy impact working particularly within his business cohort's initiatives and the entire institute. On the E-board of the Business Interview Team, Dominic is dedicated to helping the program find more young leaders, who are dedicated to servant leadership and self-development. Within the business cohort, he is also heavily involved with the Onboarding Initiative and serves as a Class of 2024 Representative. Outside of business, Dominic helps with the Institutes Selection Committee and is heavily involved with IDT projects, that of which he finds to be "some of the most exciting and dynamic group work" he has ever done.
Seton Hall Career Highlights:
Business Cohort Interview Initiative, Executive Member
Selection Committee for Institute, Member
Business Cohort Onboarding Initiative, Member
Business Cohort Class of 2024 Representative
Competitively selected to be in the Buccino Leadership Institute