"Leadership is ever changing and if you remain stagnant and complacent with where and who you are, you are failing yourself as a leader."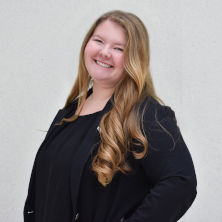 Even though her Dad passed away when Daria was only five years old, she has shown her strength and ambition through her many accomplishments. During high school, Daria was involved in many activities and organizations. She was president of student government, station manager of her school's TV studio, was a member of the National Honor Society, a student representative of the board of education, and played field hockey, ice hockey, and softball.

Though Daria's main reason for attending Seton Hall was to be a part of the leadership program, various other aspects led to her decision to attend the university. She decided to double major in Sports Management and Marketing. Daria was excited about the internship and educational opportunities Seton Hall provides, the sense of community and inclusion on campus, and the school's proximity to her home town of Lacey Township, New Jersey.
"I want to gain insight into the real world and give myself a competitive edge against my peers." She continued, "Ideally, I hope to gain experience and learn to understand situations in the workforce, as well as meeting new people and networking."
In only her first semester at Seton Hall, Daria has been very involved in several extracurricular activities. Aside from being chosen for the business cohort of the highly selective leadership program, she is also part of the Consulting Club, Business Women's Leadership, and PirateThon (a dance-a-thon that raises money for children with cancer and blood disorders). During the rest of her time at Seton Hall, Daria hopes to join a sorority and get more involved in other clubs. Overall, she hopes to be able to "open [herself] up to new experiences and new people." After college, Daria wants to work in the sports field, hopefully for the New Jersey Devils, in guest relations or event management.
Seton Hall Career Highlights:
Competitively selected to be in first Buccino Leadership Institute cohort
PirateThon
Business Women's Leadership
Consulting Club